Andrew Lipman (miembro activo 2018-2020)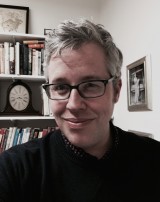 Andrew Lipman is an Early Modern America historian that joined the faculty of Bernard in 2015, after 5 years as a professor at the Universidad de Syracuse. His research interests include the Atlantic world, Early Modern America, native Americans, violence, technology, and the environment. His first book, The Saltwater Frontier: Indians and the Contest, for American Cost, was a finalist at the New England Society Book Award in No ficción, PROSE Award in the history of the USA. It was also awarded the Premio Bancroft in the History of the USA. His forthcoming book, Squanto's Odyssey, is under contract with the Yale University Press.
Lipman's work has been published in Common-place, Early American Studies, Reviews in American History, and The William and Mary Quarterly. Likewise, has contributed to Slate and TIME. His research has been supported by the American Philosophical Society, The Huntington Library, The International Seminar in the History of the Atlantic World in Harvard, John Carter Brown Library, Mystic Seaport Museum, and New-York Historical Society. He has been performing counseling duties at the exhibitions and programs of the National Museum of the American Indian of the Smithsonian Institution in New York and the Museum of the City of New York, and he was a consultant for TV series including Finding Your Roots (PBS), Who Do You Think ¿Usted está? (TLC), and Frontiersmen (History Channel). In 2017, he was selected as a member of the Historical Society of Massachusetts.
In Barnard, Lipman teaches a variety of modules, including "Encuesta sobre la civilización estadounidense a la guerra civil", "América temprana a 1763", "América revolucionaria, 1763-1815", "Gotham colonial: La historia de la ciudad de Nueva York, 1609 -1776 " and " Una historia de violencia: fuerza y poder en los primeros Estados Unidos ". He also directs postgraduate seminars in Columbia about the History of the United States and the History of Native Americans.
He was an active member of the project from 2017 until 12 March of 2020.