The BIOTECHNOPOLIS at Universidad Pablo de Olavide is understood as a new space for innovation located on campus, where both technological and enterprising initiatives foster high quality research and business. This "biospace" is oriented towards biotechnology, which encompasses a wide range of multidisciplinary areas such as agrofeeding, environmental, biomedicine and biocomputing industries. 
In this way, Universidad Pablo de Olavide gives strong support to this Biotechnopolis with the aim of becoming a key element in economic revitalization. This will be done by creating new links and agreements between entities generating knowledge, industries and society.
The aims of this BIOTECHNOPOLIS are:
Become an international reference of high quality research.
Promote technological transference and wealth promotion.
Support innovation.
Boost social development.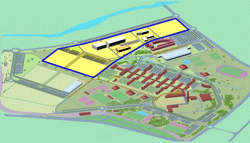 The Biotechnopolis area on UPO Campus.
Within this campus, the area devoted to develop the scientific and technological infrastructures of this Biotechnopolis encompasses the district located between Miguel de Muzquiz Street in the South, Guadaíra River in the North, Alcalá de Guadaíra in the East and the railway and underground stations in the West. All this takes up 179,335m², around 18 Ha, which is 13,3% of the total surface of our campus.
UPO offers around 50.000 m² to those industries and institutions interested in being part of the Biotechnopolis that is now being developed. 
Those companies and institutions wishing to obtain more information about the conditions to belong to our Biotechnopolis may contact us:
Universidad Pablo de Olavide. Oficina del Plan Estratégico.
Edifico del Rectorado. Plaza de América.
Ctra. de Utrera Km. 1, 41013 Sevilla
Email: planestrategico@upo.es
Phone: +34 954 97 78 14
Promoters:
Universidad Pablo de Olavide
Junta de Andalucía
Consejo Superior de Investigaciones Científicas
Links: