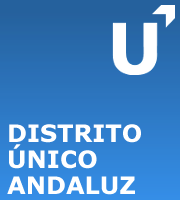 Degrees. Admission from:
Secondary Education
Selectividad (university entrance examination)
Ciclos Formativos/ F.P. (Advanced vocational training)
25 years and over
40 years and over with professional experience
45 years and over
Graduates
Students from the E.U.
International students 
Before applying to a university programme you must know whether it requires you to have passed the Spanish University Entrance Examination (Selectividad).
Applications can be submitted in June and in September . In case there are still places available after the course starts, the University may accept further applications (extraordinary enrolment period). The enrolment process starts after the application period finishes. Applications to study in a public university in Andalusia are submitted online to the Distrito Único Andaluz (Junta de Andalucía).
Applications and Enrolment to postgraduate studies must be submitted to the Graduate School (CEDEP).
Links: