Review and Support of the Relationship between Alliance Competence and Alliance Orientation
Palabras clave:
Alliances, Strategic Alliances, Alliance Orientation, Alliance Competence, Market Orientation, Senior Management Commitment
Resumen
This paper seeks to contribute to the understanding of the formation of strategic alliances among companies. Specifically, it seeks to understand the relationship between alliance competence (Lambe, Speakman & Hunt, 2002) and alliance orientation (Kandemir, Yaprak & Cavusgil, 2006), following some of the most important guidelines of the leading exponents of theories based on resources and dynamic capabilities.
Once the concepts were developed we proceeded to establish a hypothesis that seeks to better understand the relationships between the constructs and how they interact to achieve alliances that are beneficial for the parties involved.
In particular, the findings corroborate the proposed relationships, supporting a direct link between market orientation constructs and senior management commitment to the alliances, as well as the commitment of senior management and competencies for alliances. As a fundamental contribution to this work, a mediating role of the alliance orientation construct was also detected between the relationship of senior management commitment and alliance competence.
Future research is proposed into the elements of the practical guidelines for alliances and the relationship of this construct with the others related to alliances and particularly to their performance.
Descargas
Los datos de descargas todavía no están disponibles.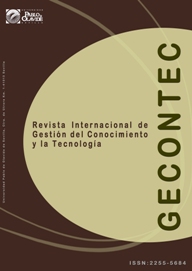 Descargas
Cómo citar
Llanos-Herrera, G. R., & Andrade-Valbuena, N. A. (2017). Review and Support of the Relationship between Alliance Competence and Alliance Orientation. GECONTEC: Revista Internacional De Gestión Del Conocimiento Y La Tecnología, 5(2), 77–92. Recuperado a partir de https://www.upo.es/revistas/index.php/gecontec/article/view/2790