Modelo de Gestión de los Recursos Humanos con base en la teoría de los subconjuntos borrosos (Human Resource Management Model based on Fuzzy Subsets Theory)
Lourdes Souto Anido

Irene García Rondón
Palabras clave:
Gestión de Recursos Humanos, Toma de Decisiones, Teoría de los Subconjuntos Borrosos, Human Resources Management, Decision Making, Fuzzy Sets Theory
Resumen
Los Recursos Humanos constituyen los únicos elementos vivos presentes en todo tipo de organización, quienes, a partir de sus conocimientos, habilidades y motivaciones, impulsan a las empresas a ser competitivas y a alcanzar sus metas.  En aras de lograr dicho objetivo se hace necesario contar con herramientas que ayuden a que el proceso de toma de decisiones concerniente a la gestión de los mismos sea lo más certeros y objetivos. El presente trabajo propone  un modelo de gestión de recursos humanos que integra herramientas basadas en la teoría de los subconjuntos borrosos. La investigación se encuentra estructurada en tres epígrafes. El primero analiza los modelos utilizados en Cuba para gestionar los  recursos humanos. El segundo presenta el Modelo de Gestión de los Recursos Humanos que se propone, para finalmente, en un tercer epígrafe proceder a validarlo. La novedad del trabajo que se propone, radica en la integración de herramientas de la teoría de los subconjuntos borrosos en los procesos claves de la Gestión de los Recursos Humanos. Entre sus aportes se encuentran: la aplicación del método de alisado exponencial borroso a la planeación del personal, la extrapolación de un modelo de asignación resuelto a través del algoritmo húngaro a la formación del personal, así como la construcción de un sistema de indicadores borrosos para la evaluación de la Gestión de los Recursos Humanos. La propuesta fue validada a través de aplicaciones parciales en empresas seleccionadas así como con criterio de expertos.
English abstract.
Human resources are the only living elements present in all types of organizations who, from their knowledge, skills and motivations driving companies to be competitive and achieve their objectives and goals. In order to achieve this objective it is necessary to have tools that help the decision-making process regarding the management of human resources is as accurate and objective as possible. This paper proposes a Human resources management model based on fuzzy subsets theory to help reduce subjectivity that may be implied in these processes tools. This paper has been structured in three epigraphs. The first one presents an analysis of the Human Resources management Models used in Cuba. The second present the proposal of the Human Resources Management Model based on fuzzy subsets theory and finally on third epigraph the proposal is validated. The novelty of the proposed work lies in the integration of tools of the theory of fuzzy subsets in the key processes of Human Resources Management. Among the main contributions are: the application of the method of fuzzy to planning staff exponential smoothing, extrapolation of an allocation model solved through the Hungarian algorithm to staff training and building a system of fuzzy indicators for the evaluation of Human Resources Management. The proposal was validated through partial applications in companies in GECOMEX well as expert judgment.
Descargas
La descarga de datos todavía no está disponible.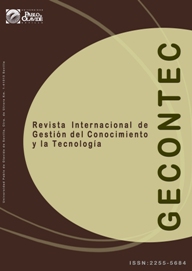 Cómo citar
Souto Anido, L., & García Rondón, I. (2016). Modelo de Gestión de los Recursos Humanos con base en la teoría de los subconjuntos borrosos (Human Resource Management Model based on Fuzzy Subsets Theory). GECONTEC: Revista Internacional De Gestión Del Conocimiento Y La Tecnología, 4(2), 14-34. Recuperado a partir de https://www.upo.es/revistas/index.php/gecontec/article/view/2272