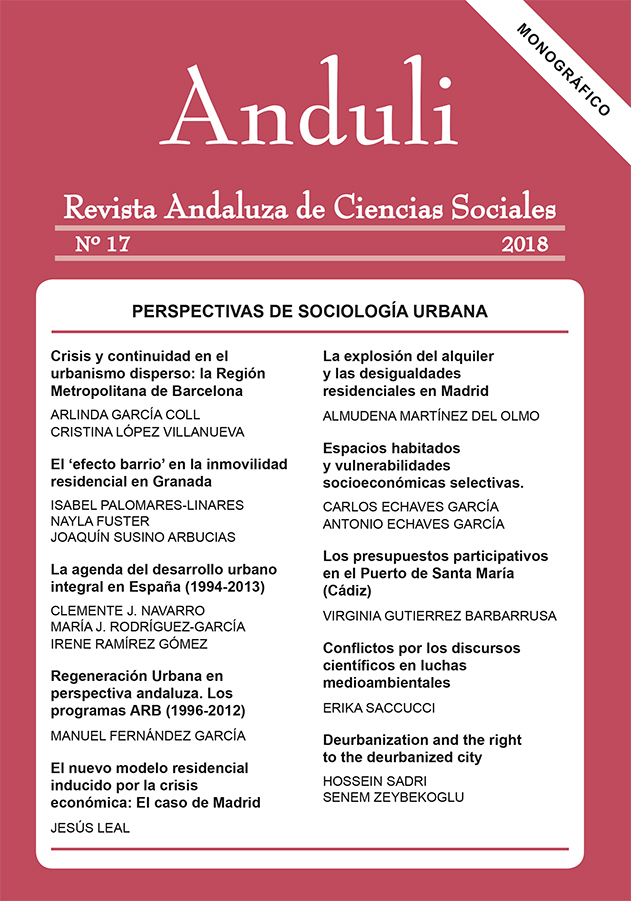 Researchers of the Urban Governance Lab have recently published two articles in the latest issue of ANDULI Revista Andaluza de Ciencias Sociales (nº17, 2018). It is a monographic issue entitled "Perspectives on urban sociology" edited by professors Antonio Echaves of the University of Seville and Jesús Leal of the Complutense University of Madrid.
The first article "The agenda for integral urban development in Spain (1994-2013)"  written by Clemente Jesús Navarro Yáñez, María Jesús Rodríguez García, and Irene Gómez Ramírez shows advances in the Urban Impacts project. Specifically, it examines the urban agenda promoted by the urban regeneration projects developed within the framework of URBAN initiatives in Spain during the last two decades.
The second article "Urban Regeneration in an Andalusian perspective. the ARB program (1996-2012)" written by the researcher Manuel Fernández García, presents some results of the RUCOSA project, specifically analyzes the model of urban regeneration implemented by the Junta de Andalucía between 1996 and 2012 through the ARB programme. It analyses characteristics relating to the starting conditions of the intervened areas, their agendas, and their governance networks.