Matemática Financiera con MATLAB© // Mathematical Finance with MATLAB©
Palabras clave:
MATLAB, Ibex 35, valoración de opciones, componentes principales, ecuaciones de Black-Scholes, método Monte Carlo, método binomial, options valuation, principal components, Black-Scholes equations, Monte Carlo method, binomial method
Resumen
Este artículo quiere mostrar los usos y las utilidades de MATLAB©, tanto en la enseñanza como en las aplicaciones de la Matemática Financiera. El artículo tiene dos partes bien diferenciadas: en la primera se hace un estudio estadístico de los datos del Ibex 35 durante gran parte del año 2006 y en la segunda se comentan y aplican los métodos matemáticos utilizados para estimar la prima de las opciones financieras.
------------------------------------
The aim of this paper is to present the MATLAB tools for the teaching and the applications in the Mathematical Finance. This paper has two parts; the first one is a statistical study of the movement of the prices for the securities in the Ibex 35 during the year 2006. The second one is about the different procedures: the Black-Scholes equation, Monte-Carlo method and Binomial method, to calculate the prices of financial options.
Descargas
Los datos de descargas todavía no están disponibles.
Citas
L. Bachelier, Theorie de la speculation, Annales de l'École Normale Superieure (1900), no. 17, 21–86.
F. Blach and M. Scholes, The Princing of Options and Corporate Liabilities, Journal of Political Economy (1973), no. 81, 637–59.
L. Boltzmann, Über die mechanische Bedeutung des Zweiten Haupsatzes der Wärmetheorie, Wien. Ber. (1866), no. 53, 195–220.
L. Boltzmann, Studien über das Gleichgewichtder lebendigen Kraft zwischen bewegten materiellen Punkten, Wien. Ber. (1868), no. 58, 517–560.
L. Boltzmann, Weitere Studien über das Wärmegleichgewicht unter Gasmolekülen, Wien. Ber. (1872), no. 66, 275–370.
R. Brown, A brief account of microscopical observations made in the months of June, July and August, 1827, on the particles contained in the pollen of plants; and on the general existence of active molecules in organic and inorganic bodies, Phil. Mag. (1828), no. 4, 161–173.
J.C. Cox, S.A. Ross, and M. Rubinstein, Option princing: a simplied approach, Journal of Financial Economics (1979), no. 7, 229–263.
B. del Hoyo and F. Vadillo, Sobre la enseñanza del Análisis Numérico, Boletin de la Sociedad Española de Matemática Aplicada (2005), no. 33, 13–18.
A. Einstein, Folgerungen aus den Capillaritätserscheinungen, Ann. Phys. (Leipzig) (1901), no. 4, 513–523.
B.S. Everitt, The Cambridge Dictionary of Stastistic, 3th edn, Cambridge Unersity Press, 2006.
P. Glasserman, Monte Carlo Methods in Financial Enginnering, Springer, 2004.
D.J. Higham, An Introduction to Financial Option Valuation, SIAM, 2000.
D.J. Higham and N.J. Higham, MATLAB Guide, SIAM, 2000.
D.J. Higham and P.E. Kloeden, Maple and Matlab for E.D.E. in Finance, disponible en: www.maths.strath.ac.uk.
H. Hotelling, Analysis of a complex of statistical variables into principal components, J. Educ. Psychol. (1933), no. 24, 417–441, 498–520.
H. Hotelling, Simplified calculation of principal components, Psychometrika (1936), no. 1, 27–35.
J. Hull, Introducción a los mercados de futuros y opciones, Prentice Hall, 1996.
J. Hull, Options, Futures and Others Derivatives, 4th edn, Prentice Hall, 2000.
E. Mach, Die Principien der Wärmelehre: Historisch-kritisch entwickelt, Leipzig, Johann Ambrosius Barth, 1896.
E. Mach, Die Leitgedanken meiner naturwissenschaftlichen Erkenntnislehre und ihre Aufnahme durch die Zeitgenossen, Physikalische Zeitschrift (1910), no. 11, 599–606.
J. C. Maxwell, On the Dynamical Theory of Gases, Philosophical Transactions (1866), no. CLVII, 49–88.
R.C. Merton, Theory of rational option pricing, Bell Journal of Economics an Mangement Science (1973), no. 4, 141–183.
N. Metropolis, The Beginning of the Monte Carlo Method, Los Alamos Science (1987), no. 15, 125–130.
N. Metropolis and S. Ulam, The Monte Carlo method, J. of the American Statistical Association (1949), no. 44, 335–341.
C.B. Moler, MATLAB- an interactive matrix laboratory, University of New Mexico, Mathematics Department, Report 369 (1979).
C.B. Moler, Numerical Computing with MATLAB, SIAM, 2004.
W. Ostwald, Vorlesungen über Naturphilosophie, Leipzig, Johann Ambrosius Barth, 1901.
K. Pearson, On lines and planes of closest fit to system of points in space, Philos. Mag. (1901), no. 2, 559–572.
S.R. Ross, An Introduction to Mathematicl Finance, Cambrige University Press, 1999.
R. Seydel, Tools for Computational Finance. Third Edition, Springer, 2006.
S. Ulam, R.D. Richtmyer, and J. von Neumann, Statistical methods in neutron diffusion, Los Alamos Scientific Laboratory report LAMS-551 (1947).
N. Wiener, The mean of a functional of arbitrary elements, Ann. of Math. (1920), no. 22, 66–72.
N. Wiener, The average of an analytical functional and the Brownian movement, Proc. Nat. Acad. Sci. USA (1921), no. 7, 294–298.
P. Wilmont, Introduction Quantitative Finance, John Wiley & Sons, 2001.
P. Wilmont, S. Howison, and J. Dewynne, The Mathematic of Financial Derivatives. Un Student Introduction, Cambridge Univesity Press, 1995.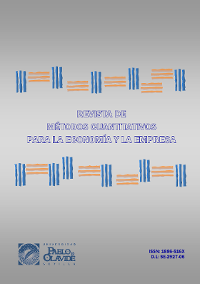 Cómo citar
Merino, M., & Vadillo, F. (2016). Matemática Financiera con MATLAB© // Mathematical Finance with MATLAB©. Revista De Métodos Cuantitativos Para La Economía Y La Empresa, 4, Páginas 35 a 55. Recuperado a partir de https://www.upo.es/revistas/index.php/RevMetCuant/article/view/2067
El envío de un manuscrito a la Revista supone que el trabajo no ha sido publicado anteriormente (excepto en la forma de un abstract o como parte de una tesis), que no está bajo consideración para su publicación en ninguna otra revista o editorial y que, en caso de aceptación, los autores están conforme con la transferencia automática del copyright a la Revista para su publicación y difusión. Los autores retendrán los derechos de autor para usar y compartir su artículo con un uso personal, institucional o con fines docentes; igualmente retiene los derechos de patente, de marca registrada (en caso de que sean aplicables) o derechos morales de autor (incluyendo los datos de investigación). 
Los artículos publicados en la Revista están sujetos a la licencia Creative Commons CC-BY-SA de tipo Reconocimiento-CompartirIgual. Se permite el uso comercial de la obra, reconociendo su autoría, y de las posibles obras derivadas, la distribución de las cuales se debe hacer con una licencia igual a la que regula la obra original.
Hasta el volumen 21 se ha estado empleando la versión de licencia CC-BY-SA 3.0 ES y se ha comenzado a usar la versión CC-BY-SA 4.0 desde el volumen 22.