Da Violência Colonial à Violência Política: A Violência Seletiva no Brasil
Clayton Emanuel Rodrigues

Universidade Federal do Oeste da Bahia / Universidade do Minho

http://orcid.org/0000-0002-4475-7975

Cleildes Marques de Santana

Universidade Federal do Oeste da Bahia

Ana Kelly Ferreira Nóbrega

Universidade do Minho
Palabras clave:
Decolonialidade, Violência, Polícia, Assassinato, Desigualdade
Resumen
A partir da história e da análise sociológica focada em fontes documentais, pretende-se discutir a violência institucional e política no Brasil, escrutinando a relação entre o colonialismo e a violência contemporânea. Procura-se, portanto, identificar no homo sacer, no biopoder e na necropolítica os mecanismos organizativos da violência, desde a guerra invasiva colonial na sua repercussão social, nos padrões repostos ou reconstruídos nos discursos e práticas justificadoras da violência institucional brasileira. No Brasil verifica-se uma guerra contra os pobres, notadamente negros e índios. Não se trata apenas da desigualdade e de injustiça, mas de uma disposição de combate ao inimigo colonial permanente, ainda inimigo da república.
This paper discusses institutional and political violence in Brazil through historical and sociological analysis of documentary sources. The objective is to scrutinize the relationship between colonialism and contemporary violence. It is therefore sought to identify in the homo sacer, the biopower and the necropolicy the organizational mechanisms of violence, from the invasive colonial war in its social repercussion, the patterns restored or reconstructed in the discourses and practices justifying the Brazilian institutional violence. In Brazil there is a war against the poor, notably blacks and Indians. This article suggests that it is not only the result of inequality and injustice, but a disposition to combat the permanent colonial enemy, still an enemy of the republic.
Descargas
La descarga de datos todavía no está disponible.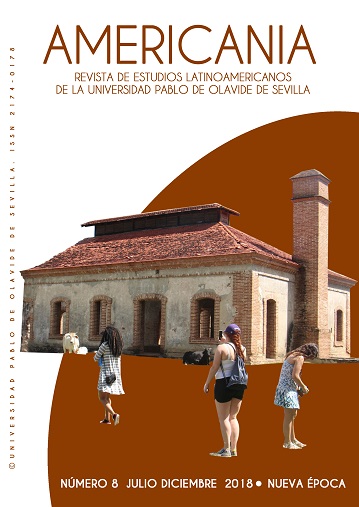 Cómo citar
Rodrigues, C. E., Santana, C. M. de, & Nóbrega, A. K. F. (2019). Da Violência Colonial à Violência Política: A Violência Seletiva no Brasil. Americanía: Revista De Estudios Latinoamericanos, (8), 257-289. Recuperado a partir de https://www.upo.es/revistas/index.php/americania/article/view/3291
Salvo indicación contraria, todos los contenidos de la edición electrónica se distribuyen bajo una licencia de uso y distribución "Creative Commons Reconocimiento-No Comercial-CompartirIgual 3.0 España" (CC-BY-NC-SA). Puede 
consultar desde aquí
 la versión informativa y el texto legal de la licencia. Esta circunstancia ha de hacerse constar expresamente de esta forma cuando sea necesario.