Calidad del servicio y determinantes de la satisfacción en usuarios de los servicios hospitalarios de Cartagena de Indias, Colombia // Perceived Quality and Determining the Satisfaction in Users of Hospital Services in Cartagena, Colombia
Palabras clave:
calidad del servicio, satisfacción, servicio de salud, regresión de mínimos cuadrados parciales, service quality, satisfaction, health service, partial least squares regression
Resumen
La valoración de la calidad y de la satisfacción de los usuarios de los servicios de salud es de suma importancia en la gestión del sector de la salud, ya que los resultados obtenidos orientan las estrategias y/o acciones encaminadas a su mejora. En este sentido, el objetivo de este artículo consiste en valorar la calidad de los servicios hospitalarios de la ciudad de Cartagena de Indias, Colombia, desde el punto de vista del usuario, que permitan identificar los factores determinantes de la calidad del servicio y su relación con los niveles satisfacción. Se emplea la técnica multivariada de regresión de mínimos cuadrados parciales (o PLS, por Partial Least Squares), perteneciente al conjunto de métodos de sistemas de ecuaciones estructurales (o SEM, por Structural Equation Models), considerando como factores para el análisis de la calidad y su relación con la satisfacción, la infraestructura, la cobertura y el acceso. Los resultados muestran que los factores considerados son claves en la calidad del servicio hospitalario de la ciudad; a su vez, inciden en la satisfacción de los usuarios. Por tanto, la implementación de mejoras en estos factores podría contribuir en el aumento de la confianza y la lealtad de los usuarios.
------------------------------------
Quality of Service and User Satisfaction in Health System form a topic with academic and managerial importance. Knowledge on variables that influence this indicator will help guide the strategies and/or actions aimed at improving service. In this sense, the goal of this article consists in assessing the hospital service quality in the city of Cartagena de Indias, Colombia, from users' viewpoint (by considering the dimensions of Physical Infrastructure, Coverage and Access) in order to identify the determinants of service quality and satisfaction. This paper charts the development of an empirical case by using the multivariate technique named Partial Least Squares (PLS), which belongs to the family of methods known as Structural Equation Modeling (SEM). The results show positive effect of those variables into service quality and overall satisfaction. It is concluded that infrastructure, access and coverage are key factors to: a) characterize the hospital service in the city of Cartagena de Indias; and b) contribute to strengthening users' confidence and fidelity.
Descargas
Los datos de descargas todavía no están disponibles.
Citas
Abdi, H. (2004). Partial Least Squares (PLS) Regression. En: M.S. Lewis-Beck, A. Bryman & T.F. Liao (eds.), The SAGE Encyclopedia of Social Sciences Research Methods (pp. 792-795), Thousand Oaks: SAGE.
Akyuz, A. & Ayyildiz, H. (2012). A structural equation model test of patient satisfaction in the Health Service Organizations in Trabzon City. International Journal of Economic and Administrative Studies, 4(8), 47-65.
Alrubaiee, L. (2011). The Mediating Effect of Patient Satisfaction in the Patients' Perceptions of Healthcare Quality – Patient Trust Relationship. International Journal of Marketing Studies, 3(1), 103-127.
Andersen, R.M. (1995). Revisiting the Behavioral Model and Access to Medical Care: Does It Matter? Journal of Health and Social Behavior, 36(1), 1-10.
Baltussen, R.; Yé, Y.; Haddad, S. & Sauerborn, R. (2002). Perceived quality of care of primary health care services in Burkina Faso. Health Policy and Planning, 17(1), 42-48.
Bañón, R. (2003). La evaluación de la acción y de las políticas públicas. Madrid: Ediciones Díaz de Santos.
Bolton, R.N. & Lemon, K.N. (1999). A Dynamic Model of Customers' Usage of Services: Usage as an Antecedent and Consequence of Satisfaction. Journal of Marketing Research, 36(2), 171-186.
Brady, M.K. & Cronin, J.J. (2001). Some New Thoughts on Conceptualizing Perceived Service Quality: A Hierarchical Approach. Journal of Marketing, 65(3), 34-49.
Chen, J.S. (2012). Advances in Hospitality and Leisure (Vol. 8). Bingley: Emerald Group Publishing.
Chin, W.W. & Dibbern, J. (2010). An Introduction to a Permutation Based Procedure for Multi-Group PLS Analysis: Results of Tests of Differences on Simulated Data and a Cross Cultural Analysis of the Sourcing of Information System Services Between Germany and the USA. En: V.E. Vinzi, W.W. Chin, J. Henseler y H. Wang (eds.), Handbook of Partial Least Squares (pp. 171-193), Berlín: Springer-Verlag.
Choi, K.-S.; Cho, W.-H.; Lee, S.; Lee, H. & Kim, C. (2004). The relationships among quality, value, satisfaction and behavioral intention in health care provider choice. Journal of Business Research, 57(8), 913-921.
Correia, S. & Miranda, F. (2010). Calidad y satisfacción en el servicio de urgencias hospitalarias: Análisis de un hospital de la zona centro de Portugal. Investigaciones Europeas de Dirección y Economía de la Empresa, 16(2), 27-41.
Departamento Administrativo Distrital de Salud (2014). Propuesta de reorganizacion de la red hospitalaria publica y privada del distrito de cartagena. "Ahora Sí" Cartagena. Cartagena de Indias.
Donabedian, A. (1990). The seven pillars of quality. Archives of Pathology & Laboratory Medicine, 114(11), 1115-1118.
Dowd, B.E.; Kralewski, J.E.; Kaissi, A.A. & Irrgang, S.J. (2009). Is patient satisfaction influenced by the intensity of medical resource use by their physicians? The American Journal of Managed Care, 15(5), e16-21.
García-Veiga, M. (2011). Análisis causal con ecuaciones estructurales de la satisfacción ciudadana con los servicios municipales. Trabajo Fin de Máster. Facultad de Matemáticas, Universidad de Santiago de Compostela.
Geladi, P. & Kowalski, B. (1986). Partial least-squares regression: A tutorial. Analytica Chimica Acta, 185, 1-17.
Gill, L. & White, L. (2009). A critical review of patient satisfaction. Leadership in Health Services, 22(1), 8-19.
Gronroos, C. (1982). Strategic Management and Marketing in the Service Sector. Helsingfors: Swedish School of Economics and Business Administration.
Guerrero, M.; Tangarife, V.; Morales, L. & Mazenett, E. (2013). Perfil epidemiológico de Cartagena de Indias, año 2011. Cartagena de Indias: Departamento Administrativo Distrital de Salud.
Hair, J.F.; Hult, G.T.M.; Ringle, C. & Sarstedt, M. (2016). A Primer on Partial Least Squares Structural Equation Modeling (PLS-SEM), 2nd Edition. Nueva York: SAGE Publications.
Henseler, J.; Ringle, C.M. & Sarstedt, M. (2015). A new criterion for assessing discriminant validity in variance-based structural equation modeling. Journal of the Academy of Marketing Science, 43(1), 115-135.
Iacobucci, D.; Ostrom, A. & Grayson, K. (1995). Distinguishing Service Quality and Customer Satisfaction: The Voice of the Consumer. Journal of Consumer Psychology, 4(3), 277-303.
Irfan, S.M.; Ijaz, A. & Farooq, M.M. (2012). Patient Satisfaction and Service Quality of Public Hospitals in Pakistan : An Empirical Assessment. Middle-East Journal of Scientific Research, 12(6), 870-877.
Itumalla, R. (2014). Development of HospitalQual : A Service Quality Scale for Measuring In-patient Services in Hospital. Operations and Supply Chain Management, 7(2), 54-63.
Marcoulides, G.; Chin, W. & Saunders, C. (2009). A critical look at partial least squares modeling. MIS Quarterly, 33(1), 171-175.
Mekoth, N.; Babu, G.; Dalvi, V.; Rajanala, N. & Nizomadinov, K. (2009). Service Encounter Related Process Quality, Patient Satisfaction, and Behavioral Intention. Management, 6(4), 333-350.
Nápoles, A.M.; Gregorich, S.E.; Santoyo-Olsson, J.; O'Brien, H. & Stewart, A.L. (2009). Interpersonal processes of care and patient satisfaction: Do associations differ by race, ethnicity, and language? Health Services Research, 44(4), 1326-1344.
Oliver, R.L. (1980). A Cognitive Model of the Antecedents and Consequences of Satisfaction Decisions. Journal of Marketing Research, 17(4), 460-469.
Oliver, R.L. & Swan, J.E. (1989). Equity and Disconfirmation Perceptions as Influences on Merchant and Product Satisfaction. Journal of Consumer Research, 16(3), 372-383.
Penchansky, R. & Thomas, J.W. (1981). The Concept of Access: Definition and Relationship to Consumer Satisfaction. Medical Care, 19(2), 127-140.
Peters, D.H.; Garg, A.; Bloom, G.; Walker, D.G.; Brieger, W.R. & Hafizur Rahman, M. (2008). Poverty and Access to Health Care in Developing Countries. Annals of the New York Academy of Sciences, 1136(1), 161-171.
Ramez, W.S. (2012). Patients' Perception of Health Care Quality, Satisfaction and Behavioral Intention : An Empirical Study in Bahrain. International Journal of Business and Social Science, 3(18), 131-141.
Ramseook-munhurrun, P.; Lukea-bhiwajee, S.D. & Naidoo, P. (2010). Service quality in the public service. International Journal of Management and Marketing Research, 3(1), 37-50.
Rosipal, R. & Krämer, N. (2006). Overview and Recent Advances in Partial Least Squares. Lecture Notes in Computer Science, 3940, 34-51.
Rundle-Thiele, S. & Russell-Bennett, R. (2010). Patient influences on satisfaction and loyalty for GP services. Health Marketing Quarterly, 27(2), 195-214.
Sahin, B. & Tatar, M. (2006). Analysis of Factors Affecting Patient Satisfaction. Disease Management & Health Outcomes, 14(3), 171-183.
Serrano-del Rosal, R. & Loriente-Arín, N. (2008). La anatomía de la satisfacción del paciente. Salud Pública de México, 50(2), 162-172.
Shackman, J. D. (2013). The Use of Partial Least Squares Path Modeling and Generalized Structured Component Analysis in International Business Research : A Literature Review. International Journal of Management, 30(3), 78-86.
Sureshchandar, G.S.; Rajendran, C. & Anantharaman, R.N. (2002). The relationship between service quality and customer satisfaction – a factor specific approach. Journal of Services Marketing, 16(4), 363-379.
Tanahashi, T. (1978). Health service coverage and its evaluation. Bulletin of the World Health Organization, 56(2), 295-303.
Tang, L. (2011). The influences of patient's trust in medical service and attitude towards health policy on patient's overall satisfaction with medical service and sub satisfaction in China. BMC Public Health, 11(1), 472-480.
Tavakol, M. & Dennick, R. (2011). Making sense of Cronbach's alpha. International Journal of Medical Education, 2, 53-55.
Torres, E.; Vasquez-Parraga, A.Z. & Barra, C. (2009). The path of patient loyalty and the role of doctor reputation. Health Marketing Quarterly, 26(3), 183-197.
Vandamme, R. & Leunis, J. (1993). Development of a Multiple‐item Scale for Measuring Hospital Service Quality. International Journal of Service Industry Management, 4(1), 30-49.
Vergara-Schmalbach, J.C.; Fontalvo, T.J. & Maza, F. (2010). La planeación por escenarios: Revisión de conceptos y propuestas metodológicas. Prospectiva, 8(2), 21-29.
Vergara-Schmalbach, J.C. & Maza-Ávila, F.J. (2015). Relationship among students' perceptions, satisfaction and future behavioral intentions at universities in Cartagena, Colombia. New Educational Review, 41(3), 133-145.
Vergara-Schmalbach, J.C. & Quesada, V.M. (2011). Análisis de la calidad en el servicio y satisfacción de los estudiantes de Ciencias Económicas de la Universidad de Cartagena mediante un modelo de ecuaciones. Revista Electrónica de Investigación Educativa, 13(1), 108-122.
Vergara-Schmalbach, J.C. & Quesada, V.M. (2013). Valoración de la Calidad del Servicio Mediante Modelos de Ecuaciones Estructurales. Cartagena de Indias: Universidad de Cartagena.
Viloria De La Hoz, J. (2005). Salud pública y situación hospitalaria en Cartagena. Documentos de Trabajo sobre Economía Regional, 65, 68 pp.
World Health Organization (2006). Quality of care: A process for making strategic choices in health systems. París: World Health Organization.
World Health Organization (2010). Monitoring the Building Blocks of Health Systems: A Handbook of Indicators and their Measurement Strategies. Ginebra: World Health Organization.
Yogesh, P. & Satyanarayana, C. (2012). Measuring Hospital Service Quality : A conceptual Framework. En: A.C. Chang y P.S. Sandhu (eds.), Proceedings of International Conference on Humanities, Economics and Geography (ICHEG'2012) (pp. 192-195), Bangkok: Planetary Scientific Research Center.
Zaim, H.; Bayyurt, N. & Zaim, S. (2010). Service Quality and Determinants of Customer Satisfaction in Hospitals: Turkish Experience. International Business & Economics Research Journal, 9(5), 51-58.
Zeithaml, V.A.; Berry, L.L. & Parasuraman, A. (1988). Communication and Control Processes in the Delivery of Service Quality. Journal of Marketing, 52(2), 35-48.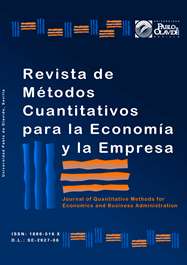 Cómo citar
Vergara Schmalbach, J. C., Quesada Ibargüen, V. M., & Maza Ávila, F. J. (2019). Calidad del servicio y determinantes de la satisfacción en usuarios de los servicios hospitalarios de Cartagena de Indias, Colombia // Perceived Quality and Determining the Satisfaction in Users of Hospital Services in Cartagena, Colombia. Revista De Métodos Cuantitativos Para La Economía Y La Empresa, 26, Páginas 203 a 219. Recuperado a partir de https://www.upo.es/revistas/index.php/RevMetCuant/article/view/2519
El envío de un manuscrito a la Revista supone que el trabajo no ha sido publicado anteriormente (excepto en la forma de un abstract o como parte de una tesis), que no está bajo consideración para su publicación en ninguna otra revista o editorial y que, en caso de aceptación, los autores están conforme con la transferencia automática del copyright a la Revista para su publicación y difusión. Los autores retendrán los derechos de autor para usar y compartir su artículo con un uso personal, institucional o con fines docentes; igualmente retiene los derechos de patente, de marca registrada (en caso de que sean aplicables) o derechos morales de autor (incluyendo los datos de investigación). 
Los artículos publicados en la Revista están sujetos a la licencia Creative Commons CC-BY-SA de tipo Reconocimiento-CompartirIgual. Se permite el uso comercial de la obra, reconociendo su autoría, y de las posibles obras derivadas, la distribución de las cuales se debe hacer con una licencia igual a la que regula la obra original.
Hasta el volumen 21 se ha estado empleando la versión de licencia CC-BY-SA 3.0 ES y se ha comenzado a usar la versión CC-BY-SA 4.0 desde el volumen 22.