Measuring Indicators for Marketing Effectiveness in Czech Companies // Indicadores para medir la eficacia del marketing en las empresas checas
Palabras clave:
Marketing effectiveness, performance, financial indicators, non-financial indicators, engineering, efectividad del marketing, desempeño, indicadores financieros, indicadores no financieros, ingeniería
Resumen
Marketing effectiveness has been accepted as one of the most important parts in corporate performance system. It is due to dynamical changes in business environment in after-crisis times. The goal of this paper is the definition of used possible indicators in measuring marketing effectiveness. The paper presents advance in usable indicators, especially financial and non-financial metrics. Selected studies, focusing on different branches and different indicators, were analysed by the author. The author of article puts the question, which classification is the most statistical explaining the difference of stakeholders in term of evaluation their impact on business management. There were made cluster analysis for data mining including its graphic presentation through dendogram and two-sample t-test by statistical software IBM SPSS Statistics 22 to obtain relevant answer on defined research question. Such limitation of the paper is possible to signify focusing only on domestic (Czech) industrial market.
------------------------------------
La eficacia de la comercialización se ha aceptado como una de las partes más importantes del sistema del funcionamiento corporativo. Es debido a los cambios dinámicos en el ambiente de negocio en tiempos después de la crisis. El objetivo de este artículo es la definición de indicadores posibles usados en la medición de eficacia del marketing. El artículo presenta avance en indicadores usables, especialmente métricas financieras y no financieras. Los estudios seleccionados, centrándose en diversas ramas y diversos indicadores, fueron analizados por el autor. El autor del artículo pone la pregunta: ¿cuál es la clasificación más estadística que explica la diferencia de las partes interesadas en función de la evaluación de su impacto en gestión empresarial? Se realizaron análisis cluster para minería de datos, incluyendo su presentación gráfica a través de dendograma y t-test para dos muestras usando el software estadístico IBM SPSS Statistics 22 para obtener respuesta pertinente a la pregunta definida en la investigación. Tal limitación del artículo es posible significar centrarse solamente en el mercado industrial doméstico (checo).
Descargas
Los datos de descargas todavía no están disponibles.
Citas
AMBLER, T. Market metrics: What should we tell the shareholders? The Journal of Risk Finance, 2002. Vol. 10, No. 1, pp. 47-50. Doi 10.1108/09657960210697418.
ANDĚL, J. Statistické metody. 4. vyd. Praha: Matfyzpress, 2007, 299 s. ISBN 978-80-7378-003-6.
BARWISE, P., FARLEY, J. U. Marketing metrics: Status of six metrics in five countries. European Management Journal, 2004. Vol. 22, No. 3, pp. 257-262. Doi 10.1016/j.emj.2004.04.012.
BAROUDI, R. KPI mega Library. Scots Valley: Rachard Baroudi, 2010, p. 457. ISBN 9781451551662.
BUDÍKOVÁ, M., LERCH, T., MIKOLÁŠ, Š. Základní statistické metody.Brno: Masarykova univerzita, 2005, 170 s., ISBN 8021038861.
CLARK, B. H., ABELA, A. V., AMBLER, T. An Information processing model of marketing performance measurement. Journal of Marketing Theory and Practice, 2006. Vol. 14, No. 3, pp. 191-208. Doi 10.2753/MTP1069-6679140302.
CHRISTIAN, R. C. Seventeen ways to improve marketing effectiveness. Journal of Marketing, 1959. Vol. 23, No. 1, pp. 301-302.
DRUGĂ, P. Competitive strategies within industrial markets. Platforma / Laborator de Analize Statisticesi Previziune a fenomenelor Economico-socialesi Cercetari de marketing, 2009. No. 4, pp. 17-20.
EHRENBERGER, M., KOUDELKOVÁ, P., STRIELKOWSKI, W. Factors influencing innovation in small and medium enterprises in the Czech Republic. Periodica Polytechnica: Social and Management Sciences, 2015. Vol. 23, No. 2, pp. 73-83. Doi 10.3311/PPso.7737
FARRIS, P. W., BENDLE, N. T., PFEIFER, P. E., REIBSTEIN, D. J. Marketing metrics: The Definitive guide to measuring marketing performance. 2nd ed. New Jersey: Pearson Education, 2010, p. 414. ISBN 978-0-13-705829-7.
FRANCESCHINI, F., GALETTO, M., MAISANO, D. Management by measurement: designing key indicators and performance measurement systems, Springer Verlag, 2007, p. 242, ISBN 978-3-540-73211-2.
GINEVIČIUS, R., PODVEZKO, V., GINEVIČIUS, A. Quantitative evaluation of enterprise marketing activities. Journal of Business Economics and Management, 2013. Vol. 14, No. 1, pp. 200-212. Doi 10.3846/16111699.2012.731143.
HALACHMI, A. Performance measurement is only one way of managing performance. International Journal of Productivity and Performance Management, 2005. Vol. 54, No. 7, pp. 502-516. Doi 10.1108/17410400510622197.
HEBÁK, P., HUSTOPECKÝ, J. Vícerozměrné statistické metody s aplikacemi.Praha: SNTL, 1987, 452 s.
HORNUNGOVÁ, J. Factor Analysis: An Instrument for Selection of Social Performance Factors. Revista de Metodos Cuantitativos para la Economia y la Empresa, 2014a, Vol. 17, No. 6, pp. 121-136. ISSN: 1886-516X.
HORNUNGOVÁ, J. Development of Concepts and Models of Performance Evaluation from the 19th Century to the Present. DANUBE: Law and Economics Review, 2014b, Vol. 5, No. 2, pp. 143-154. Doi 10.2478/danb-2014-0008
ISRAEL, G. D. Determining sample size. University of Florida: Institute of Food and Agricultural Sciences, 2012.
KERZNER, H. Project Management Metrics, KPIs, and Dashboards: A Guide to Measuring and Monitoring Project Performance. New Jersey: John Wiley & Sons, 2011, p. 372, ISBN 978-1-118-02652-6.
KOLEŇÁK, J., KOLEŇÁKOVÁ, L. Je synergie cestou ke zvýšení hodnoty pod niku? Scientia & Societas, 2012, Vol. 8, No. 3, pp. 128-138, ISSN 1801-7118.
KOTLER, P., KELLER, K. L. Marketing Management. 12th ed. New Jersey: Pearson Education, 2006, p. 816. ISBN 978-0-13-145757-7.
KOTLER, P., KELLER, K. L. Marketing management. 14th ed. New Jersey: Pearson Education, 2012, p. 789. ISBN 978-0-13-210292-6.
KOZEL, R., MYNÁŘOVÁ, L., SVOBODOVÁ, H. Moderní marketingový výzkum. Praha: Grada Publishing, 2011, 304 s. ISBN 978-80-247-3527-6.
KOŽENÁ, M., CHLÁDEK, T. Company Competitiveness Measurement Depending on its Size and Field of Activities. Procedia - Social and Behavioral Sciences, 2012, Vol. 58, No. 12, pp. 1085-1090. Doi 10.1016/j.sbspro.2012.09.1089
KUNDEROVÁ, P. Úvod do teorie pravd ěpodobnosti a matematické statistiky. 2.vyd. Olomouc: Universita Palackého, 2004, 191 s. ISBN 80-244-0843-0.
LEBAS, M. J. Performance measurement and performance management. International Journal of Production Economics, 1995, Vol. 41, No. 1, pp. 23–35.
LI, L. Y. Marketing metrics usage: Its predictor and implications for customer relationship management. Industrial Marketing Management, 2011. Vol. 40, No. 1, pp. 139-148. Doi 10.1016/j.indmarman.2010.09.002.
LIMA, E. P., COSTA, S. E. G., ANGELIS, J. J. Strategic performance measurement systems: a discussion about their roles. Measuring Business Excellence, 2009, Vol. 13, No. 3, pp. 39-49.Doi 10.1108/13683040910984310.
MARIA, B. Information System for Modeling Economic and Financial Performances. Annals of the University of Oradea, Economic Science Series, 2009, Vol. 18, No. 4, pp. 902-907.
MARINIČ, P. Plánování a tvorba hodnoty firmy.Praha: Grada Publishing, 2008, 232 s., ISBN 9788024724324.
MOHAMAD, O., RAMAYAH, T., PUSPOWARSITO, H. Incidence of marketing activities in medium-sized manufacturing firms in Indonesia: Comparing export intenders and non-export intenders. International Journal of Business and Society, 2011. Vol. 12, No. 1, pp. 89-102. ISSN 1511-6670
MUCHIRI, P. N., PINTELON, L., MARTIN, H., DE MEYER, A.-M. Empirical analysis of maintenance performance measurement in Belgian industries. International Journal of Production Research, 2010, Vol. 48, No. 20, pp. 5905-5924.
PARMENTER, D.: Key performance indicators: developing, implementing, and using winning KPIs. New Jersey: John Wiley & Sons, 2010, p. 299, ISBN 978-0-470-54515-7.
POLLARD, D., SIMBEROVA, I. On researching the internationalisation of SMEs in transformation economies. World Review of Entrepreneurship, Management and Sustainable Development, 2008, Vol. 4, No. 2/3, pp. 107-124. Doi 10.1504/WREMSD.2008.01822
ŘEZANKOVÁ, H., HÚSEK, D., SNÁŠEL, V. Shluková analýza dat. Praha: Professional Publishing, 2007, 196 s., ISBN 978-80-86946-26-9.
ŘEZANKOVÁ, H. Analýza dat z dotazníkových šet ření. 2.vyd. Praha: Professional Publishing, 2010, 217 s. ISBN 978-80-7431-019-5.
SAMSONOWA, T., BUXMANN, P., GERTEIS, W. Defining KPI Sets for Industrial Research Organizations – A Performance Measurement Approach. International Journal of Innovation Management, 2009, Vol. 13, No. 2, pp. 157-176.
SAUNDERS, M., LEWIS, P., THORNHILL, A. Research methods for business students. 2nd ed. Essex: Pearson Education. 2009, P. 614. ISBN 978-0-273-71686-0.
SEGGIE, S. H., CAVUSGIL, E., PHELAN, S. E. Measurement of return on marketing investment: A Conceptual framework and the future of marketing metrics. Industrial Marketing Management, 2007. Vol. 36, No. 6, pp. 834-841. Doi 10.1016/j.indmarman.2006.11.001.
SIU, W. Marketing activities and performance: A comparison of the Internet-based and traditional small firms in Taiwan. Industrial Marketing Management. 2002. Vol. 31, No. 2, pp. 177-188. ISSN0019-8501/02/$.
SMITH, D. A. Implementing Indicators fort IT Service Management. Van Haren Publishing, 2008.
SVOBODOVÁ, A.; KOUDELKOVÁ, P. Collective intelligence and knowledge management as a tool for innovations. In Economics and management, 2011, Vol. 16, pp. 942-946.
ŠIMBEROVÁ, I. Marketing approach to stakeholder management. In: 5th International scientific conference business and management, 2008. pp. 310-315.
ŠIMBEROVÁ, I. Company strategic marketing management – synergic approach and value creating. Acta Universitatis Agriculturae et Silviculturae Mendelianae Brunensis, 2010, Vol. 58, No. 6, pp. 543-552.
TOMEK, G., VÁVROVÁ, V. Marketing: Od myšlenky k realizaci . 3.vyd. Praha: Professional Publishing, 2011, 344 s. ISBN 978-80-7431-042-3.
WATSON, J. How to determine a sample size. PA: Penn State Cooperative Extension, 2001, pp. 1-5.
WEBB, J. W., IRELAND, D. R., HITT, M. A., KISTRUCK, G. M., TIHANYI, L. Where is the opportunity without the customer? An integration of marketing activities, the entrepreneurship process, and institutional theory. Journal of the Academy of Marketing Science, 2011. Vol. 39, No. 4, Doi 10.1007/s11747-010-0237-y
WU, H.-Y. Constructing a strategy map for banking institutions with key performance indicators of the balanced scorecard. Evaluation and Program Planning, 2012, Vol. 35, No. 3, pp. 303–320. Doi 10.1016/j.evalprogplan.2011 .11.009.
ZAHAY, D., GRIFFIN, A. Marketing strategy selection, marketing metrics, and firm performance. Journal of Business &Industrial Marketing, 2010. Vol. 25, No. 2, pp. 84-93. Doi 10.1108/08858621011017714.
ZAHEREWATI, Z., MAHAZRIL, A. Y., ZURAINI, Y., NAZNI, N., MOHD ZOOL HILMIE, M. S., ZURIAWATI, Z. Key Performance Indicators (KPIs) in the Public Sector: A Study in Malaysia. Asian Social Science, 2011, Vol. 7, No. 7, pp. 102-107.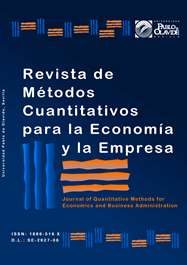 Cómo citar
Milichovský, F. (2016). Measuring Indicators for Marketing Effectiveness in Czech Companies // Indicadores para medir la eficacia del marketing en las empresas checas. Revista De Métodos Cuantitativos Para La Economía Y La Empresa, 20, Páginas 3 a 24. Recuperado a partir de https://www.upo.es/revistas/index.php/RevMetCuant/article/view/2236
El envío de un manuscrito a la Revista supone que el trabajo no ha sido publicado anteriormente (excepto en la forma de un abstract o como parte de una tesis), que no está bajo consideración para su publicación en ninguna otra revista o editorial y que, en caso de aceptación, los autores están conforme con la transferencia automática del copyright a la Revista para su publicación y difusión. Los autores retendrán los derechos de autor para usar y compartir su artículo con un uso personal, institucional o con fines docentes; igualmente retiene los derechos de patente, de marca registrada (en caso de que sean aplicables) o derechos morales de autor (incluyendo los datos de investigación). 
Los artículos publicados en la Revista están sujetos a la licencia Creative Commons CC-BY-SA de tipo Reconocimiento-CompartirIgual. Se permite el uso comercial de la obra, reconociendo su autoría, y de las posibles obras derivadas, la distribución de las cuales se debe hacer con una licencia igual a la que regula la obra original.
Hasta el volumen 21 se ha estado empleando la versión de licencia CC-BY-SA 3.0 ES y se ha comenzado a usar la versión CC-BY-SA 4.0 desde el volumen 22.