Hidden Champions in Spain: The Path to Successful Business Decisions // Hidden Champions en España: el camino hacia la toma de decisiones empresariales de éxito
Palabras clave:
hidden champion, brand champion, global value chains (GVC), competitiveness, internationalization, cadenas de valor globales (CVG), competitividad, internacionalización
Resumen
The last three decades have been a story of lost opportunities for Spanish industry to transform and improve their international competitiveness. However, there are some paradigmatic examples that violate this rule. This is the case of two Spanish companies: Hidden Champions and Brand Champions. These companies behave differently from the European and Spanish ones of similar size. They are more resilient in times of economic recession and are able to maintain and even increase their employment levels, while significantly increasing its sales and added value. This research therefore seeks to ascertain whether the Spanish hidden champions are good indicators of maturity, stability and growth of the Spanish economy; in addition to determining the reasons that have brought success and allowed these companies to recover faster than other firms. To do this, we have considered the quantitative and qualitative results collected by 75 Spanish companies to identify key management decisions. All this information is supplemented by personal interviews in order to capture more qualitative aspects about the nature of companies' management practices. The results show a typology of companies that behave differently from other companies. Managers believe that the development of close relations with customers is the first reason related to management that has led where they are today. The second is the continued development of new products and technology through innovation. Thirdly, managers consider internationalization, global approach and international alliances; whereas the fourth reason corresponds to high product specialization. Other reasons include talent management, strong leadership and company identity, quality and service, and close cooperation between managers and employees. 
------------------------------------
Las tres últimas décadas han sido una historia de oportunidades perdidas para transformar la industria española y mejorar su competitividad internacional. Sin embargo, existen algunos ejemplos paradigmáticos que contravienen esta norma general. Es el caso de las empresas españolas Hidden Champions y Brand Champions. Estas empresas se comportan de manera diferente a las europeas y españolas de tamaño similar. Son más resilientes en períodos de recesión económica y logran mantener, e incluso aumentar, sus niveles de empleo, al tiempo que aumentan significativamente sus ventas y valor añadido. Esta investigación se plantea como objetivo comprobar si los campeones ocultos españoles son buenos indicadores de la madurez, estabilidad y capacidad de crecimiento de la economía española; además de determinar las razones del éxito de estas empresas, que les ha permitido recuperarse más rápido que otras firmas. Para ello, contamos con los resultados cuantitativos y cualitativos recogidos por 75 empresas españolas para identificar las principales decisiones de gestión. Toda esta información se complementa con entrevistas personales, con el fin de captar los aspectos más cualitativos de la naturaleza de las prácticas de gestión de las empresas. Los resultados muestran una tipología de empresas que se comportan de forma diferente al resto de empresas. Los gestores creen que la primera razón de gestión que les ha llevado donde están hoy es el desarrollo de estrechas relaciones con los clientes. El segundo es el desarrollo continuo de nuevos productos y tecnología a través de la innovación. En tercer lugar, consideran la internacionalización, el enfoque global y alianzas internacionales; mientras que el cuarto lugar corresponde a la alta especialización del producto. Otras razones incluyen la gestión del talento, un fuerte liderazgo e identidad de la empresa, la calidad y el servicio, y una estrecha cooperación entre directivos y empleados.
Descargas
Los datos de descargas todavía no están disponibles.
Citas
AMANN B. & JAUSSAUD J. (2012): "Family and non-family business resilience in an economic downturn". Asia Pacific Business Review, 18(2), 203-223.
AFEC (2015): Fresh View Special Edition: Austria's Hidden Champions. Vienna: Austrian Federal Economic Chamber.
BOX, G.E.P.; JENKINS, G.M. & REINSEL, G.C. (1994): Time series analysis. Forecasting and control, 3rd ed. Englewood Cliffs: Prentice Hall.
CEEMAN (2011): Hidden champions in CEE and dynamically changing environments. Research Report. Bled: Central and East European Management Development Association.
CHRISMAN, J.; CHUA J. & STEIER, L. (2011): "Resilience of Family Firms: An Introduction". Entrepreneurship Theory and Practice, 35(6), 1107-1119.
DRUCKER, P.F. (1988): "The Coming of the New Organization". Harvard Business Review, 66(1), 45-53
EUROPEAN COMMISSION (2011): SBA fact Countries Sheets. Several issues.
FEUBLI, P. & GACHET, E. (2015): The Hidden Swiss Champions: Small but World Class. Credit Suisse. Available at: https://www.credit-suisse.com/corporate/en/articles/news-and-expertise/the-hidden-swiss-champions-small-but-world-class-201506.html.
FREEL, M.S. & Robson, P.J.A. (2004): "Small Firm Innovation, Growth and Performance: Evidence from Scotland and Northern England". International Small Business Journal: Researching Entrepreneurship, 22(6), 561-575.
KOTHA, S. (1995): "Mass customization: implementing the emerging paradigm for competitive advantage". Strategic Management Journal, 16(5), 21-42.
MORENO, F. & COAD, A. (2015): "High-growth firms: Stylized facts and conflicting results". In A.C. Corbett, J.A. Katz & A. Mckelvie (eds.): Entrepreneurship Growth: Individual, Firm, and Region. Bingley: Emerald Publishing Group, pp. 187-230.
MYRO, R. & GANDOY, R. (2009). "Capítulo 8: Sector industrial". In J.L. García Delgado & R. Myro (eds.): Lecciones de Economía Española. Madrid: Thomson-Civitas, pp. 96-111.
PORTER, M.E. (1985): Competitive Advantage: Creating and Sustaining Superior Performance. New York: The Free Press.
ROBSON, P.J.A. & BENNETT, R.J. (2000): "SME Growth: The Relationship with Business Advice and External Collaboration". Small Business Economics, 15(3), pp 193-208.
SCHAEDE, U. (2011): "Show Me the Money: Japan's Most Profitable Companies in the 2000s". DBJ Discussion Paper Series, 1211. Available at: http://www.dbj.jp/ricf/pdf/research/DBJ_DP_1211.pdf.
SIMON, H. (1990): "Speerspitze der deutschen Wirtschaft". Zeitschrift für Betriebswirtschaft, 60(9), 875-890.
SIMON, H. (1996): Hidden Champions: Lessons from 500 of World's Best Unknown Companies. Boston: Harvard Business School Press.
SIMON, H. (2009): Hidden Champions of the 21st Century: Success Strategies of Unknown World Market Leaders. London: Springer.
VENOHR, B. & MEYER, K. (2007). "The German miracle keeps running: How Germany's hidden Champions Stay Ahead in the Global Economy". Working Papers of Institute of Management Berlin at Berlin School of Economics, 30. Available at: http://hwr-berlin.com/fileadmin/downloads_internet/Forschung/Veroeffentlichungen/Working_paper/working_paper_30.pdf.
VERNON, R. (1966): "International investment and international trade in the product cycle". Quarterly Journal of Economics, 80(2), 190-207.
VOUDOURIS, I.; LIOUKAS, S.; MAKRIDAKIS, S. & SPANOS, Y. (2000): "Greek Hidden Champions: Lessons from Small Little-Known Firms in Greece". European Management Journal, 18(6), 663-674.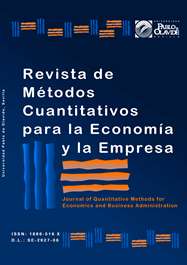 Cómo citar
Perea Muñoz, E., Ripoll-i-Alcon, J., & Berlanga Silvente, V. (2017). Hidden Champions in Spain: The Path to Successful Business Decisions // Hidden Champions en España: el camino hacia la toma de decisiones empresariales de éxito. Revista De Métodos Cuantitativos Para La Economía Y La Empresa, 24, Páginas 190 a 208. Recuperado a partir de https://www.upo.es/revistas/index.php/RevMetCuant/article/view/2887
El envío de un manuscrito a la Revista supone que el trabajo no ha sido publicado anteriormente (excepto en la forma de un abstract o como parte de una tesis), que no está bajo consideración para su publicación en ninguna otra revista o editorial y que, en caso de aceptación, los autores están conforme con la transferencia automática del copyright a la Revista para su publicación y difusión. Los autores retendrán los derechos de autor para usar y compartir su artículo con un uso personal, institucional o con fines docentes; igualmente retiene los derechos de patente, de marca registrada (en caso de que sean aplicables) o derechos morales de autor (incluyendo los datos de investigación). 
Los artículos publicados en la Revista están sujetos a la licencia Creative Commons CC-BY-SA de tipo Reconocimiento-CompartirIgual. Se permite el uso comercial de la obra, reconociendo su autoría, y de las posibles obras derivadas, la distribución de las cuales se debe hacer con una licencia igual a la que regula la obra original.
Hasta el volumen 21 se ha estado empleando la versión de licencia CC-BY-SA 3.0 ES y se ha comenzado a usar la versión CC-BY-SA 4.0 desde el volumen 22.