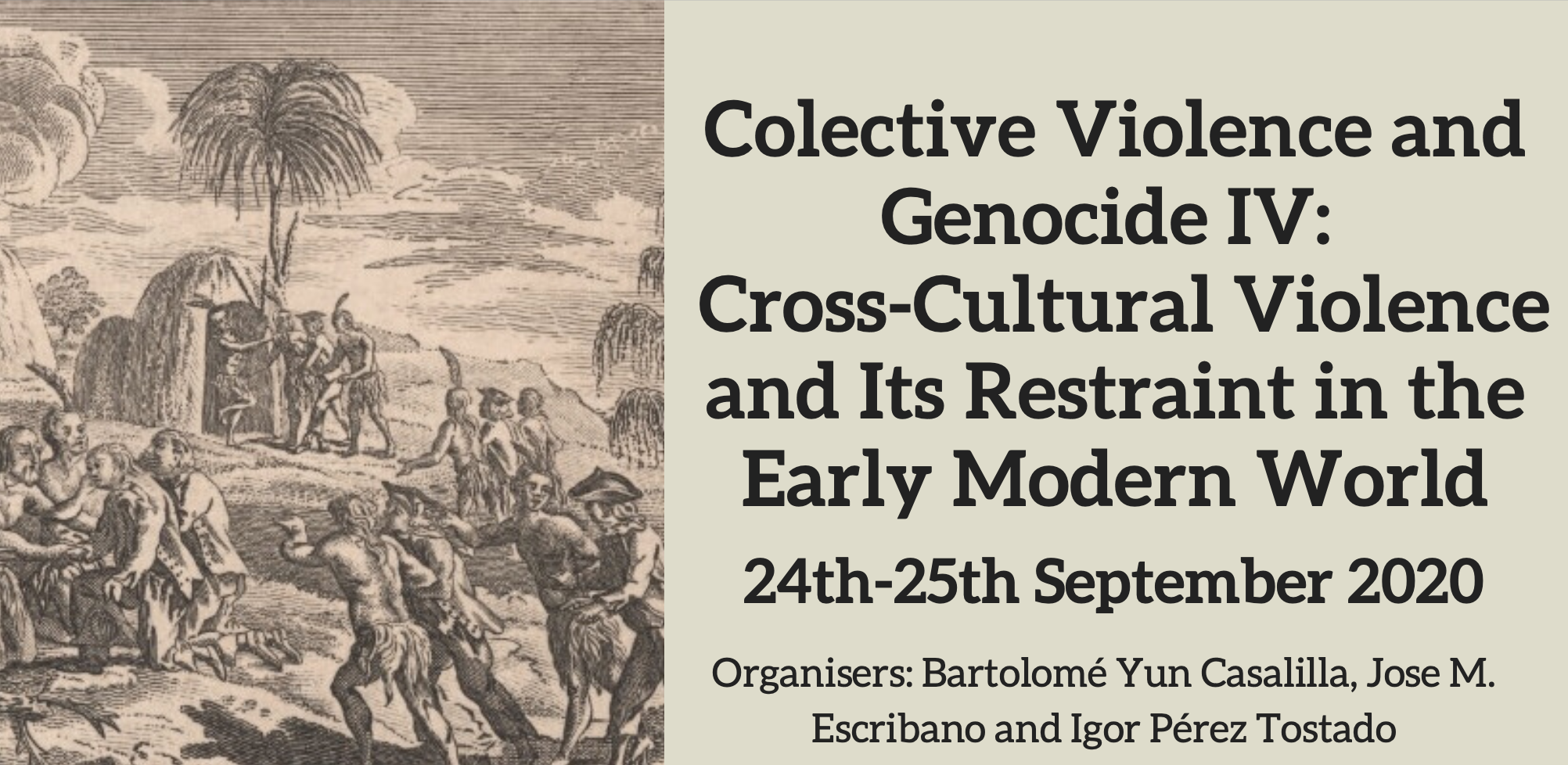 Congreso virtual «Cross Cultural Violence and its Restraint in the Early Modern World»
Seminario online: 24 y 25 de septiembre de 2020
Después del retraso causado por el COVID-19, el IV seminario internacional violencia colectiva y genocidio «Cross-cultural violence and its restraint in the Early Modern-world» se desarrollará los próximos 24 y 25 de septiembre de 2020. El seminario está organizado por Bartolomé Yun Casalilla, José Miguel Escribano e Igor Pérez Tostado. Este acto aúna los esfuerzos realizados en el marco del proyecto H2020 MSC-IF 2016 GA 748592 «On the Frontiers of Peace: Cross-Cultural Peacebuilding on the Frontiers of the Iberian Empires (1500-1580)», del grupo PAIDI HUM-1000 «Historia de la Globalización: violencia, negociación e interculturalidad» y del proyecto de investigación «En los límites de la violencia (II): la larga sombra de las masacres modernas en contexto global». El seminario forma parte de la red columnaria, dentro de las actividades organizadas por el nodo Masacre y frontera.
Participan en el seminario Bartolomé Yun Casalilla (UPO), Mark Mewese (University of Winnipeg), Jorge Díaz Ceballos (UPO), Miguel G. Rodrigues (European University Institute), Guido Van Meersbergen (University of Warwick), Brian Sandberg (Northern Illinois University), Miguel Ángel de Bunes Ibarra (Consejo Superior de Investigaciones Científicas), José Miguel Escribano (UPO) e Igor Pérez Tostado (UPO).
El programa completo con todos los participantes y el título de sus contribuciones está disponible aquí. 
El seminario será online y abierto a todo el público interesado a través del este enlace.