El Grupo Musical Rock como Marco Educativo: desarrollo de habilidades sociales y competencias profesionales
Abstract
La dinámica en los modelos sociales obliga a una continua revisión de los paradigmas educativos, bien como herramienta del proceso de enseñanza bien como vehículo idiomático adecuado para su inferencia en la población objeto. La presente propuesta pone de manifiesto el potencial educativo en un contexto de trabajo grupal a través del estilo Rock (música underground), donde gracias a la epistemología artística y a las exigencias socio-económicas de creación, desarrollo y consolidación de un proyecto musical, los sujetos adquieren una serie de competencias profesionales demandadas actualmente por el mercado laboral en disciplinas tan diversas como la ingeniería, la economía, el desarrollo empresarial, la política o la investigación científica. La resolución de problemas a través de la creatividad en dinámicas de grupo (ensayo musical) desarrolla una serie de habilidades y métodos de perfeccionamiento para superar los diferentes obstáculos en el camino hacia "el éxito", hacen de los músicos de un grupo de Rock sujetos con capacidad de esfuerzo y superación -entre otros valores y competencias-, dotados para emprender cualquier proyecto laboral en el futuro.
El presente trabajo sintetiza algunos aspectos clave sobre los feedbacks obtenidos en el contexto de un proyecto de transformación que los autores estiman de máxima pertinencia, fundamentándose en experiencias de transversalidad educativa e innovación llevadas a cabo por los autores en la Universidad de Córdoba, así como en conferencias, cursos de formación para profesorado y en la experiencia personal para conseguir la consolidación de grupos de Rock underground como Estirpe y Subtónica.   
Downloads
Download data is not yet available.
References
Cross, J. (2004). Writing about Living Composers: Questions. Problems, Context, Identity and Diference. Colledted writings of the Orpheus Institute. 9-40. Leuven: Leuven University Press.
Davidson, J. W. y Good, J. M. M. (2002). Social and musical co-ordination between members of a string quartet: An exploratory study. Psychology of Music, 30, 186-201.
Deschaussées, M. (2009). El intérprete y la música. Madrid: RIALP, S.A.
Estévez, J. y García-Marín, A. P. (2014). Proyectos en Ingeniería Civil e Ingeniería en Recursos Mineros y Energéticos. Córdoba: Ediciones Don Folio.
Gaels-Montero, L. (2013). Grandes éxitos y fracasos del crowdfunding. Diario digital La Marea. http://www.lamarea.com/2013/09/05/historia-no-autorizada-del-crowdfunding/
Gallardo, L.R. (2010). El ensayo: práctica de conjunto", Musicalia, 8, Consejería de Educación Junta de Andalucía, Córdoba.
Gallardo, L.R. y Estévez, J. (2014). Rock y Educación. Binomio para el desarrollo transversal de competencias, valores y cultura emprendedora. Córdoba: Diputación de Córdoba y AEIAP.
Gillespie, W. y Myors, B. (2000). Personality of Rock Musicians. Psychology of Music, 28, 154- 65.
International Project Management Association, IPMA. (2014). Recuperado de http://www.ipma
Lehmann, A. C. y Ericsson, K. A. (1998). The historical development of domains of expertise: Performance standards and innovations in music. In A. Steptoe (ed.) Genius and the mind: studies of creativity and temperament in the historical record, 64- 97. Oxford University Press, Oxford.
O´Neill, S. A. (1997). The Role of Practice in Children´s Early Musical Performance Achievement", in H. Jorgensen and A. C. Lehmann (Eds.) Does Practice Make Perfect? Current Theory and Research on Instrumental Music Performance, pp. 53- 70. Oslo: Norwegian State Academy of Music.
O´Neill, S. A. y Mcpherson, G. E. (2001). Motivation, in R Parncutt and G. E. McPherson (Eds.).The Science and Psychology of Music Performance: Creative Strategies for Teaching and Learning, pp. 31- 46. New York: Oxford University Press.
Project Management Institute, PMI. (2005). PMBOK. Philadelphia: Project Management Institute.
Raeburn, S. D. (1987a). Occupational Stress and Coping in a Sample of Professional Rock Musicians, I, Medical Problems of Performing Artists, 2: 41-48.
Raeburn,S. D. (1987b). Occupational Stress and Coping in a Sample of Professional Rock Musicians, II, Medical Problems of Performing Artists, 2: 77-82.
Williamon, A. y Valentine, E. (2002). Quantity and Quality of Musical Practice as Predictors of Performance Quality. British Journal of Psychology, 91: 353- 76.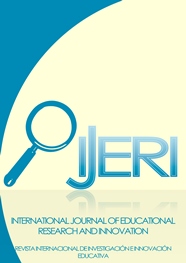 Downloads
How to Cite
Gallardo Lorenzo, L. R., & Estévez Gualda, J. (2015). El Grupo Musical Rock como Marco Educativo: desarrollo de habilidades sociales y competencias profesionales. IJERI: International Journal of Educational Research and Innovation, (4), 61–69. Retrieved from https://www.upo.es/revistas/index.php/IJERI/article/view/1458