Systematic Literature Review: Trends in the education, finance and health sectors in the processes of implementation of Government of Information Technologies
Abstract
Current education is marked by a process of technological updating, with augmented reality (AR) being one of the technologies with the greatest projection in the educational field. It is an innovative technique that generates an intermediate reality between the physical environment and the virtual world, through the conversion of everyday objects to digital elements in 3D, allowing its users to interact with them through a mobile device. This technology allows adapting to any situation, such as those moments in which a teacher has to replace another during the school day. The objective of this study is to know the influence exercised in the students of secondary education the application of an innovative experience based on the use of the AR as a dynamic tool of the sessions in which the professor of a subject is absent and has to be replaced by another teacher. To this end, a non-experimental design of a descriptive and correlational type was followed through a quantitative method. An ad hoc questionnaire was applied to a sample of 210 students from an educational center in Ceuta (Spain). The results reflect that the implementation of the experience has contributed to the reach of positive values ​​in motivation and student participation, achievement of objectives, digital competence, classroom climate and all this with few difficulties in the students, being statistically significant differences in regarding the gender and course of the student body.
Downloads
Download data is not yet available.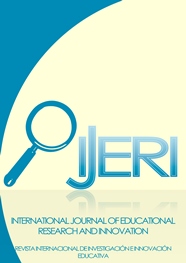 How to Cite
Pinargote, C. L. (2019). Systematic Literature Review: Trends in the education, finance and health sectors in the processes of implementation of Government of Information Technologies. IJERI: International Journal of Educational Research and Innovation, (12), 109-121. Retrieved from https://www.upo.es/revistas/index.php/IJERI/article/view/3342
The works published in the "International Journal of Educational Research and Innovation (IJERI)" are subject to the following terms:
The works are published in electronic edition under a Creative Commons Attribution-NonCommercial-NoDerivative 3.0 Spain license: they can be copied, used, disseminated, transmitted and publicly exhibited, provided that:
a) The authorship and the original source of its publication are cited (magazine, editorial and URL of the work).
b) They are not used for commercial purposes.
c) The existence and specifications of this user license are mentioned.