Comparison of cognitive and metacognitive strategies in the academic achievement of urban and rural students of Eghlid
Abstract
This research studies the cognitive and metacognitive strategies with academic success in urban and rural students; gender and place of residence that has not been the result of a definite result on their role in previous research have been gained. The present research is a correlation type and is an applied research. The aim of this study is to improve the level of learning. The target population of the high school students in Eghlid city is 269 people. A sample of 241 people was randomly selected and researched. The number of samples is specified according to the Morgan table. Pearson correlation and (T) test were used for two independent groups. The obtained result indicates that cognitive and metacognitive strategies in academic achievement, gender, and location are also effective in these strategies, so that female students are more than boys and student's Urban uses both types of strategy more than rural students.
Downloads
Download data is not yet available.
References
Saif A. A. (2002). Educational Psychology, Learning in Education, Tehran: Awareness
Flavel, J. Salovey. H (1998). Cognitive Development, Farhad Maher, Tehran, Iran: Growth.
Karami, A. (2002). Developing a tool for measuring the strategies of learning and studying and determining the relationship between these strategies and academic achievement, Ph.D., Allameh Tabatabaei University.
Ababaff, Z. (1996). Comparison of the Strategy of Learning the Strong and Weak High School Students in Secondary, 4th and 11th District High Schools in Tehran, 1974-75, Master's Thesis. Allameh Tabatabaei University.
Mayer, R, E. (1986). Psychotherapy, Translator Mohammad Taghi Farahani, Tehran: Center for Islamic Revolution Documents.
Rafts, M. Anne L. Linda, Duff, L. (1996). Learning and memorization strategies, Alinaqi Kharrazi translation, Tehran: Nashar Nay.
Brown. (1949). The psychology of cognition. Academic press
Dumbo, D. (1994). A history thinking in Rosenberg & E.Smith(eds), the psychology of human thought. Cambridge university press.
Harlow, H. (1988). Human problem-solving. Cambridge university press.
Mayer, R. Salovey, H. (1991). Children's meta-cognation knowledge about reading. Journal of educational psychology, 70, 680-690
Pressley, M. Borkowski, j, G. Schreider, W. (1987). Cognitive Strategies: good Strategy users coordinate meta-cognation and knowledge. Angels of child Development, V4. 89-129.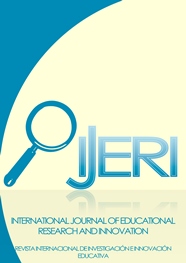 How to Cite
Taghieh, M. R., Tadayon, Z., & Taghieh, R. (2019). Comparison of cognitive and metacognitive strategies in the academic achievement of urban and rural students of Eghlid. IJERI: International Journal of Educational Research and Innovation, (12), 282-293. Retrieved from https://www.upo.es/revistas/index.php/IJERI/article/view/3709
The works published in the "International Journal of Educational Research and Innovation (IJERI)" are subject to the following terms:
The works are published in electronic edition under a Creative Commons Attribution-NonCommercial-NoDerivative 3.0 Spain license: they can be copied, used, disseminated, transmitted and publicly exhibited, provided that:
a) The authorship and the original source of its publication are cited (magazine, editorial and URL of the work).
b) They are not used for commercial purposes.
c) The existence and specifications of this user license are mentioned.