Data Driven Learning and teaching of prepositions in ESL: A study of Arab learners
Abstract
This paper explores the effectiveness of data driven learning approach in teaching prepositions to Arab learners. English prepositions have been reported to be a typical feature to learn by the Arab ESL learners. Moreover, intermediate or advance level learners have also reported their difficulties in the usage of English prepositions; reasons might be perceptual and cultural differences bet the two language communities. Teacher trained materials prepared from online resources along with TPP corpus, the aim of the present study was to compare DDL and traditional prescriptive rule based method of grammar teaching. Two distinct classes; experimental (n = 41) and control (n = 19) groups were formed who were study English major. Standardized test was conducted as a pre-test to ensure participants equal level of proficiency in using prepositions. During the study duration for a semester, experimental group was exposed to teacher-prepared materials along with TPP to see prepositions in context. Moreover they were asked to explore further through the prepared materials to reinforce their learning from the data. A post-test was administered at the end of the course. The results showed that the experimental group outperformed the control group. It was found that learners' active role to direct their own learning process caused this encouraging outcome and better learning experience for the learners.
Downloads
Download data is not yet available.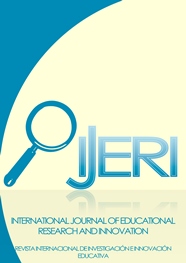 How to Cite
Alshammari, S. R. (2019). Data Driven Learning and teaching of prepositions in ESL: A study of Arab learners. IJERI: International Journal of Educational Research and Innovation, (12), 153-168. Retrieved from https://www.upo.es/revistas/index.php/IJERI/article/view/3809
The works published in the "International Journal of Educational Research and Innovation (IJERI)" are subject to the following terms:
The works are published in electronic edition under a Creative Commons Attribution-NonCommercial-NoDerivative 3.0 Spain license: they can be copied, used, disseminated, transmitted and publicly exhibited, provided that:
a) The authorship and the original source of its publication are cited (magazine, editorial and URL of the work).
b) They are not used for commercial purposes.
c) The existence and specifications of this user license are mentioned.