Teaching reading to ESL Arab learners: A theoretical review
Mogbel Aid K Alenizi

Northern Border University (NBU)

Amrendra Kumar Singh

Northern Border University (NBU)
Keywords:
Situational model, Jordan, reading skill, Saudi Arabia, theories
Abstract
El presente documento revisa el estado de la capacidad de comprensión de lectura entre los estudiantes de EFL en Jordania y Arabia Saudita. Hay varios factores que contribuyen a las habilidades lingüísticas deficientes entre los alumnos, según lo informado por varias agencias, así como el Ministerio de Educación. Aquí se intenta proponer un método situacional como una herramienta eficaz para mejorar la experiencia de aprendizaje de los alumnos. Tanto los países, como las otras naciones árabes, han gastado notablemente en la dirección de crear su propia fuerza laboral para que sean autosuficientes, pero el resultado deseado aún está lejos. Este documento permitirá a los investigadores tener una idea de la situación actual y trabajar por el refuerzo de dicho modelo para hacer que el proceso de enseñanza-aprendizaje de EFL sea más gratificante.
Downloads
Download data is not yet available.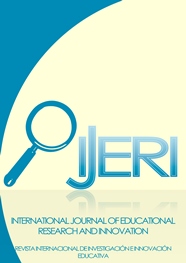 How to Cite
K Alenizi, M. A., & Kumar Singh, A. (2019). Teaching reading to ESL Arab learners: A theoretical review. IJERI: International Journal of Educational Research and Innovation, (12), 20-49. Retrieved from https://www.upo.es/revistas/index.php/IJERI/article/view/4164
The works published in the "International Journal of Educational Research and Innovation (IJERI)" are subject to the following terms:
The works are published in electronic edition under a Creative Commons Attribution-NonCommercial-NoDerivative 3.0 Spain license: they can be copied, used, disseminated, transmitted and publicly exhibited, provided that:
a) The authorship and the original source of its publication are cited (magazine, editorial and URL of the work).
b) They are not used for commercial purposes.
c) The existence and specifications of this user license are mentioned.