Teaching reading to ESL Arab learners: A theoretical review
Mogbel Aid K Alenizi

Northern Border University (NBU)

Amrendra Kumar Singh

Northern Border University (NBU)
Resumen
The present paper reviews the status of reading comprehension skill among the learners of EFL in Jordan and Saudi Arabia. There are various factors contribute to the poor language skills among the learners, as reported by various agencies as well as the Ministry of Education. It is an attempt here to propose Situational Method as an effective tool to enhance the learning experience of the learners. Both the countries, including the other Arab nations have spent remarkably very well in the direction of creating their own workforce to become self reliant but the desired outcome is still a way far. This paper will enable the researchers to have an idea of the current situation and work for the reinforcement of such model to make the EFL teaching-learning process more rewarding.
Descargas
La descarga de datos todavía no está disponible.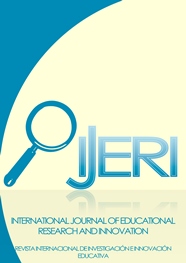 Cómo citar
K Alenizi, M. A., & Kumar Singh, A. (2019). Teaching reading to ESL Arab learners: A theoretical review. IJERI: International Journal of Educational Research and Innovation, (12), 20-49. Recuperado a partir de https://www.upo.es/revistas/index.php/IJERI/article/view/4164
Las obras que se publican en la revista « International Journal of Educational Research and Innovation (IJERI) » están sujetas a los siguientes términos:
2) Las obras se publican en edición electrónica bajo una licencia Creative Commons Reconocimiento-NoComercial-SinObraDerivada 3.0 España: se pueden copiar, usar, difundir, transmitir y exponer públicamente, siempre que:
a) Se cite la autoría y la fuente original de su publicación (revista, editorial y URL de la obra).
b) No se usen para fines comerciales.
c) Se mencione la existencia y especificaciones de esta licencia de uso.