Factor Analysis: An Instrument for Selection of Social Performance Factors // Análisis factorial: un instrumento de selección de factores sociales de rendimiento
Palabras clave:
Business management, performance, indicators, factor analysis, administración de empresas, rendimiento, indicadores, análisis factorial
Resumen
This article is focused on the identification of social performance factors. For this purpose, a multidimensional statistical method -factor analysis- was used. The basic set for the selection of indicators was the concept (and the social tool) of Corporate Social Responsibility, subsequently, the questionnaire was constructed. Empirical research was attended by 32 companies, from the Area of Information and Communication Activities (CZ-NACE, section J), with the number of employees over 250.
The aim of the factor analysis was selection of significant indicators and performance factors for selected area from the input database. On the basis of the paper, there were evaluated: three social factors from the area of working environment and two social factors from the area of local community. The understanding of their application into the internal management shall be necessary prior to company's decision regarding the measures of key performance indicators.
------------------------------------
Este artículo se centra en la identificación de factores de rendimiento social. Para este propósito, se utilizó el método estadístico multidimensional del análisis factorial. El conjunto básico para la selección de indicadores fue el concepto (y el instrumento social) de la Responsabilidad Social Corporativa; posteriormente, se construyó un cuestionario. En la investigación empírica participaron 32 empresas, desde el Área de Actividades de la Información y la Comunicación (sección J, CZ-NACE), con un número de empleados superior a 250.
El objetivo del análisis de los factores fue la selección de indicadores relevantes y factores de rendimiento para el área seleccionada de la base de datos de partida. Basándose en el trabajo, se evaluaron tres factores sociales del área del ambiente de trabajo y dos factores sociales del ámbito de la comunidad local. El entendimiento de su aplicación en la gestión interna se considera necesaria antes de la decisión de la empresa en cuanto a las medidas de los indicadores clave de rendimiento.
Descargas
Los datos de descargas todavía no están disponibles.
Citas
ALLIO, M. Metrics that matter: seven guidelines for better performance measurement. Handbook of Business Strategy, 2006. Vol. 7, No. 3, pp. 255-263. ISSN 0894-4318.
ASOCIACE SPOLEČENSKÉ ODPOVĚDNOSTI. Udržitelnost MSP se stává běžným standardem [online]. 2014 [cit. 2014-02-16]. Available from: http://www.spolecenskaodpovednostfirem.cz/obsah/149/udrzitelnost-msp-se-stava-beznym-standardem/.
BOYD, N., GESSNER, B. Human resource performance metrics: methods and precesses that demonstrate you care. Cross Cultural Management, 2013. Vol. 20, No. 2, pp. 251-273. ISSN 1352-7606.
BUČIŪNIENĖ I., KAZLAUSKAITĖ R. The linkage between HRM, CSR and performance outcomes. Baltic Journal of Management, Oxford: Emerald Group Publishing Limited, 2012. Vol. 7, No. 1, pp. 5-24. ISSN 1746-5265.
CARROLL, A. B. A Three-Dimensional Conceptual Model of Corporate Performance. The Academy of Management Review, 1979. Vol. 4, No. 4, pp. 497-505. ISSN 1930-3807.
HAMMER, M., ERTL, J., BARVENČÍK, O., KUTÁLEK, D. Příspěvek k rozboru spolehlivosti výkonových olejových transformátorů – 3. část. Elektrorevue, 2011. Č. 32, s. 1-7. ISSN 1213-1539.
HARVEY, J. KPIs – The Broader Strategic Context. Credit Control, 2005. Vol. 26, No. 4, pp. 65-66. ISSN 0143-5329.
HRACH, K., MIHOLA, J. Metodické přístupy ke konstrukci souhrnných ukazatelů. Statistika, 2006. Vol. 86, No. 5, pp. 398-418.
KOCMANOVÁ, A.; DOČEKALOVÁ, M.; HORNUNGOVÁ, J.; ŠIMBEROVÁ, I.; CHVÁTALOVÁ, Z.; HŘEBÍČEK, J.; TRENZ, O.; KUBÁLEK, T.; HODINKA, M.; POPELKA, O. Měření podnikové výkonnosti. Brno: Littera, 2013. 247 s. ISBN: 978-80-85763-77- 5.
KOCMANOVÁ, A.; ŠIMBEROVÁ, I. Multidimensional Modelling of Social Performance Indicators in Processing Industry Companies in the Czech Republic. International Journal of Mathematical Models and Methods in Applied Sciences, 2013. Vol. 7, No. 5, pp. 500-507. ISSN: 1998- 0140.
KERZNER, H.: Project Management Metrics, KPIs, and Dashboards: A Guide to Measuring and Monitoring Project Performance, New Jersey: John Wiley & Sons, 2011, p. 372, ISBN 978-1-118-02652-6.
KUKAČKA, J. Společenská odpovědnost firem – mikroekonomický přístup (bachelor thesis). Praha: Univerzita Karlova, Fakulta sociálních věd, 2008.
LASZLO, CH., ZHEXEMBAYEVA, N. Embedded Sustainability. The Next Big Competittive Advantage. Greenleaf Publishing, 2011. 288 s. ISBN 978-0-8047-7554-0.
MARINIČ, P.: Plánování a tvorba hodnoty firmy. Praha: Grada Publishing, 2008, 232 s., ISBN 9788024724324.
MINISTRY OF INDUSTRY AND TRADE. Finanční analýza podnikové sféry za rok 2012 [online]. 2013 [cit. 2013-10-01]. Available from: http://www.mpo.cz/dokument141226.html.
MOSKOWITZ, M. R. Choosing Socially Responsible Stock. Business and Society Review, 1972. Vol. 1, pp. 71-75. ISSN 1467-8594.
PARMENTER, D.: Key performance indicators: developing, implementing, and using winning KPIs. New Jersey: John Wiley & Sons, 2010, p. 299, ISBN 978-0-470-54515-7.
PORTER, M. E., KRAMER, M. R. The competitive advantage of Corporate Philantrophy. Harvard Business Review, 2002. Vol. 80, No. 12, pp. 57-68. ISSN 0017-8012.
PORTER, M. E., KRAMER, M. R. Strategy and society: the link between competitive advantage and corporate social responsibility. Harvard Business Review, 2006. Vol. 84, No. 12, pp. 78-91. ISSN 0017-8012.
ROBINS, F. Why corporate social responsibility should be popularised but not imposed. Corporate Governance, 2008. Vol. 8, No. 3, pp. 330-341. ISSN 1472-0701.
SPIRIG, K. Social Performance and Competitiveness, A Socio-Competitive Framework. In: Schaltegger, S. and Wagner, M. (Eds.). Managing the Business Case for Sustainability. Sheffield: Greenleaf Publishing, 2006. pp. 82-106. ISBN 1-874719-95-0.
SVOBODA, J. Význam konceptu společenské odpovědnosti organizací (CSR) a jeho využívání v České republice (doctoral thesis). Zlín: Univerzita Tomáše Bati ve Zlíně, Fakulta managementu a ekonomiky, 2010.
ŠKALOUDOVÁ, A. Faktorová analýza [online]. 2010 [cit. 2013-08-14]. Available from: http://userweb.pedf.cuni.cz/kpsp/skalouda/fa/.
TSOUTSOURA, M. Corporate Social Responsibility and Financial Performance [online]. 2004 [cit. 2012-10-18]. Available from: http://escholarship.org/uc/item/111799p2.
VANCE, S. C. Are Socially Responsible Corporations Good Investment Risks? Management Review, 1975. Vol. 64, No. 8, pp. 19-24.
WADDOCK, S. A., GRAVES S. B. The Corporate Social Performance-financial performance link. The Strategic Management Journal, 1997. Vol. 18, No. 4, pp. 303-319. ISSN 1097-0266.
WAGNER, J. Měření výkonnosti – vývojové tendence 2. poloviny 20. století. Politická ekonomie, 2011. Č. 6, s. 775-793. ISSN 0032-3233.
WOOD, D. J. Measuring Corporate Social Performance: A Review. International Journal of Management Reviews, 2010. Vol. 12, No. 1, pp. 50-84. ISSN 1468-2370.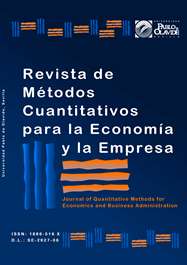 Cómo citar
Hornungová, J. (2016). Factor Analysis: An Instrument for Selection of Social Performance Factors // Análisis factorial: un instrumento de selección de factores sociales de rendimiento. Revista De Métodos Cuantitativos Para La Economía Y La Empresa, 17, Páginas 121 a 136. Recuperado a partir de https://www.upo.es/revistas/index.php/RevMetCuant/article/view/2197
El envío de un manuscrito a la Revista supone que el trabajo no ha sido publicado anteriormente (excepto en la forma de un abstract o como parte de una tesis), que no está bajo consideración para su publicación en ninguna otra revista o editorial y que, en caso de aceptación, los autores están conforme con la transferencia automática del copyright a la Revista para su publicación y difusión. Los autores retendrán los derechos de autor para usar y compartir su artículo con un uso personal, institucional o con fines docentes; igualmente retiene los derechos de patente, de marca registrada (en caso de que sean aplicables) o derechos morales de autor (incluyendo los datos de investigación). 
Los artículos publicados en la Revista están sujetos a la licencia Creative Commons CC-BY-SA de tipo Reconocimiento-CompartirIgual. Se permite el uso comercial de la obra, reconociendo su autoría, y de las posibles obras derivadas, la distribución de las cuales se debe hacer con una licencia igual a la que regula la obra original.
Hasta el volumen 21 se ha estado empleando la versión de licencia CC-BY-SA 3.0 ES y se ha comenzado a usar la versión CC-BY-SA 4.0 desde el volumen 22.