Ranking socioeconómico para el desarrollo de las regiones carboníferas en Europa // Socioeconomic Ranking for the Development of Coal-mining Regions in Europe
Palabras clave:
Desarrollo económico, regiones y localidades carboníferas, sector minero, empresas carboníferas, métodos cuantitativos, economic development, coaleld regions and municipalities, mining sector, coal-mining companies, quantitative methods
Resumen
La situación socioeconómica de las cuencas carboníferas europeas es muy heterogénea. Entre los ejemplos de éxito hay regiones que desde hace tiempo emprendieron procesos de internacionalización, innovación y reconversión industrial, lo que les ha llevado a desarrollar nuevas alternativas de producción y se ha traducido en un repoblamiento paulatino, pero hay otras en peor situación, y por ello es muy probable que se hagan presentes efectos no deseados, derivados de la eliminación de las ayudas y subvenciones comunitarias y estatales y la liberalización del mercado a la entrada de minerales de terceros países, a partir del 31 de diciembre de 2018. La presente investigación propone una herramienta metodológica para conocer con precisión la situación socioeconómica de las localidades y regiones, resultado de las políticas adoptadas en el pasado, a partir de lo cual se pueden desarrollar nuevas políticas que garanticen su continuidad y el bienestar de quienes viven en ellas.
------------------------------------
The socioeconomic situation of European coalfields is highly heterogeneous. On the one hand, successful examples comprise regions that long ago embraced internationalization, innovation and/or restructuring strategies. In those regions where the aforementioned strategies were fruitful, the development of new production methods led to gradual repopulation. Less successful examples, however, are likely to experience undesired effects as a consequence of both the suppression of aid (EU- and regional- level) and the liberalization of EU mining markets, starting on December 31, 2018. This papers aims to provide a method to accurately assess the socioeconomic situation of these regions. As such a method is rooted in previous policies, it enables the identification of welfare-enhancing policies for the
inhabitants of European coaleld regions.
Descargas
Los datos de descargas todavía no están disponibles.
Citas
Anderson, K. (1995), "The Political Economy of Coal Subsidies in Europe", Energy Policy, 6(23), pp. 485-496.
Archibugi, D. y Pietrobelli, C. (2003), "The Globalization of Technology and its Implications for Developing Countries: Windows of Opportunity or Further Burden?", Technological Forecasting and Social Change, 70, pp. 861-883.
Ayee, J.; Søreide, T.; Shukla, G.P. y Le, T.M. (2011), Political Economy of the Mining Sector in Ghana. Policy Research Working Paper Series 5730, The World Bank.
Berumen, S.A. (2012). "Evaluación del Impacto de la Política de Incentivos Sectoriales en el Desarrollo de los Municipios Mineros de Castilla y León", Journal of Economics, Finance and Administrative Science, 17 (33), pp. 15-30.
Berumen, S.A. (2014). "Impacto de la Crisis en el Desarrollo Económico de las Regiones Mineras en Europa", Problemas del Desarrollo, 45 (176), pp. 83-106.
Berumen, S.A. (2016a). "Did Income Inequality Benefit of Hinder Economic Growth in Europe", Journal of Social, Political, and Economic Studies, 42 (2). Próxima publicación.
Berumen, S.A. (2016b). "Nota Metodológica Sobre el Impacto de la Crisis en una Zona Minera y Aplicación a un Caso", Investigaciones Regionales – Journal of Regional Research, 34, pp. 125-136.
Berumen, S.A. y Hegemann, P. (2014). "Colaborar Globalmente o Morir Localmente: el Reto de la Internacionalización del Sector Minero Alemán", Cuadernos de Administración, 27 (48), pp. 227-251.
Berumen, S.A. y Llamazares Redondo, F. (2007). "La Utilidad de los Métodos de Decisión Multicriterio (como el AHP) en un Entorno de Competitividad Creciente", Cuadernos de Administración, 20 (34), pp. 65-87.
Berumen, S.A.; Llamazares Redondo, F. y Vázquez Vicente, G. (2014). "Evaluación de los Objetivos de la Estrategia de Lisboa en Europa en Empresas Intensivas en Mano de Obra", Economía Industrial, 393, pp. 129-139.
Burke, P.J. y Resosudarmo, B.P. (2012), "Survey of Recent Developments", Bulletin of Indonesian Economic Studies, 3(48), pp. 299-324.
Cappellin, R.; Orsenigo, L. (2006), "Regional Learning Networks in Medium-Tech Technologies and European Integration", ERSA Conference Papers ersa06p334, European Regional Science Association.
Capps, G. (2012). "Victim of its Own Success? The Platinum Mining Industry and the Apartheid Mineral Property System in South Africa's Political Transition", Review of African Political Economy, 131(39), pp. 63-84.
Chapman, S. A. (2013), "Specialization and Agglomeration Patterns in Eastern Europe", European Journal of Comparative Economics, 1(10), pp. 49-79.
Decisión CECA 3632/93 (1994). Disponible en: http://eur-lex.europa.eu/LexUriServ/LexUri
Dosi, G.; Pavitt, K. y Soete, L. (1990), The economics of technical change and international trade, London, Pinter Publishers.
Du Plessis, S. (2011), "Nationalising South African Mines: Back to a Prosperous Future, or Down a Rabbit Hole?" Working Papers 17/2011, Stellenbosch University, Department of Economics.
EC (2001–2014), Employment in Europe, Brussels, European Commission.
Euracoal (2002–2014), Yearbook, Brussels, Euracoal.
Eurostat (2014), Yearbook, Brussels, Eurostat.
Fagerberg, J. (1994), "Technology and International Differences in Growth Rates", Journal of Economic Literature, 32, pp. 1147-1175.
Fagernäs, S. y Roberts, J. (2004). "The Fiscal Effects of Aid in Zambia", Working Papers 10, Economics and Statistics Analysis Unit (ESAU), Overseas Development Institute.
Frondel, M.; Kambeck, R. y Schmidt, C.M. (2006). "Hard Coal Subsidies: A Never-Ending Story?" RWI Discussion Papers 0053, Rheinisch-Westfälisches Institut für Wirtschaftsforschung.
Gruian, C. M. (2010), "A New Challenge For The Romanian Coal Industry: Elimination of the State Aid", Annals of Faculty of Economics, 1(2), pp. 249-255.
Haftendorn, C. y Holz, F. (2008). "Analysis of the World Market for Steam Coal Using a Complementarity Model", Discussion Papers of DIW Berlin, German Institute for Economic Research, Berlin.
Hilson, G.; Yakovleva, N. y Banchirigah, S.M. (2007). "To Move or Not to Move: Reflections on the Resettlement of Artisanal Miners in the Western Region of Ghana", African Affairs, 106 (424), pp. 413-436.
Holcombe, S. (2009), Indigenous Entrepreneurialism and Mining Land Use Agreements, Sydney, ANU College of Law.
Kaplan, D. (2012), "South African Mining Equipment and Specialist Services: Technological Capacity, Export Performance and Policy", Resources Policy, 37(4), pp 425-433.
Kavouridis, K. (2008). "Lignite Industry in Greece within a World Context: Mining, Energy Supply and Environment", Energy Policy, 36 (4), pp. 1257-1272.
Kemfert, C. y Diekmann, J. (2006), "Perspectives for Germany's Energy Policy", Discussion Papers of DIW Berlin, German Institute for Economic Research, Berlin.
Kotschwar, B.; Moran, T.H.; Muir, J. (2012). "Chinese Investment in Latin American Resources: The Good, the Bad, and the Ugly", Working Paper Series WP12-3, Peterson Institute for International Economics.
Jonek-Kowalska, I. (2015). "State Aid and Competitiveness of the Hard Coal Mining Industry in the European Union", Equilibrium. Quarterly Journal of Economics and Economic Policy, 10 (1), pp. 69-87.
Llamazares Redondo, F. y Berumen, S.A. (2011). Los Métodos de Decisión Multicriterio y su Aplicación al Análisis del Desarrollo Local, Madrid, Esic Business & Marketing School.
Miller, G.A. (1956), "The Magical Number Seven Plus or Minus Two. Some Limits On Our Capacity For Processing Information", The Psychological Review, 63, pp. 81-97.
Munteanu, R. (2004). "Qualifizierung und Vermittlung für Eine Dynamische Arbeitswelt", Annals of the University of Petrosani, 4, pp. 189-190.
Nelson, R.R. (1993). National Innovation Systems: A Comparative Analysis, New York, Oxford University Press.
Parlamento Europeo (2010), Notas de prensa 24/11/2010, Estrasburgo, Parlamento Europeo.
RECHAR II (1994), Iniciativa Comunitaria relativa a la reconversión económica de las zonas mineras del carbón, 1994-1997. Diario Oficial, C 180 de 1994-07-01. Disponible en: http://cordis.europa.eu/programme/rcn/481_es.html
Reeson, A.F.; Measham, T.G. y Hosking, K. (2012). "Mining Activity, Income Inequality and Gender in Regional Australia", Australian Journal of Agricultural and Resource Economics, 56 (2), pp. 302-313.
Roch, I. (2009). "Brown Coal Planning as a Basis for Sustainable Settlement Development", Procedia Earth and Planetary Science, 1 (1), pp. 857-867.
Roy, B. (1968), "Classement et Choix en Présence de Points de Vue Multiples: La Méthode ELECTRE", Revue Francaise d'Informatique et de Recherche Operationnelle, 8, pp. 57-75.
Saaty, T.L. (1980). Multicriteria Decision Making: The Analytic Hierarchy Process, New York, McGraw-Hill.
Saaty, T.L. (1986). "Axiomatic Foundation of the Analytic Hierarchy Process", Management Science, 32 (7), pp. 841-855.
Saaty, T.L. (1990). "How to Make a Decision", European Journal of Operational Research, 48, pp. 9-26.
Saaty, T.L (1994a). Fundamentals of Decision Making and Priority Theory with the Analytic Hierarchy Process, Pittsburgh, RWS Publications.
Saaty, T.L. (1994b). "How to Make a Decision: The Analytic Hierarchy Process", Interfaces, 24(6), pp. 19-43.
Saaty, T.L. (1994c). "Homogeinity and Clustering in AHP Ensures the Validity of the Scale", European Journal of Operational Research, 72, pp. 598-601.
Sarfo-Mensah, P.; Adjaloo, M.K. y Donkor,, P. (2010). "Youth Unemployment Challenges in Mining Areas of Ghana", FEEM Working Paper No 122.
Taeyoon, K., Jaeho, L. y Jea, W.C. (2011). "Firm Level Productivity and Survey Results for Korean Firms in Vietnam and Indonesia", KIEP Research Paper Nº 11-22, Policy Analysis.
Tavoni, M. y van der Zwaan, B. (2009). "Nuclear Versus Coal Plus CCS: A Comparison of Two Competitive Base-load Climate Control Options", Working Papers 2009.100, Fondazione Eni Enrico Mattei.
Verspagen, B. (1993). Uneven Growth Between Interdependent Economies, Aldershot, UK, Avebury.
Wedley, W.C.; Schoner, B. y Tang, T.S. (1993). "Starting rules for Incomplete Comparisons in the Analytic Hierarchy Process", Mathematical and Computer Modelling, 17(4–5), pp. 93-100.
Wilson, A.; McMahon, F. y Minardi, J.F. (2013). British Columbia´s Mining Policy Performance: Improving BC´s Attractiveness to Mining Investment. Studies in Mining Policy, Vancouver, Fraser Institute.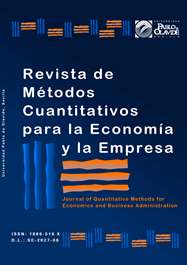 Cómo citar
Berumen, S. A., & Pérez-Megino, L. P. (2016). Ranking socioeconómico para el desarrollo de las regiones carboníferas en Europa // Socioeconomic Ranking for the Development of Coal-mining Regions in Europe. Revista De Métodos Cuantitativos Para La Economía Y La Empresa, 21, Páginas 39 a 57. Recuperado a partir de https://www.upo.es/revistas/index.php/RevMetCuant/article/view/2252
El envío de un manuscrito a la Revista supone que el trabajo no ha sido publicado anteriormente (excepto en la forma de un abstract o como parte de una tesis), que no está bajo consideración para su publicación en ninguna otra revista o editorial y que, en caso de aceptación, los autores están conforme con la transferencia automática del copyright a la Revista para su publicación y difusión. Los autores retendrán los derechos de autor para usar y compartir su artículo con un uso personal, institucional o con fines docentes; igualmente retiene los derechos de patente, de marca registrada (en caso de que sean aplicables) o derechos morales de autor (incluyendo los datos de investigación). 
Los artículos publicados en la Revista están sujetos a la licencia Creative Commons CC-BY-SA de tipo Reconocimiento-CompartirIgual. Se permite el uso comercial de la obra, reconociendo su autoría, y de las posibles obras derivadas, la distribución de las cuales se debe hacer con una licencia igual a la que regula la obra original.
Hasta el volumen 21 se ha estado empleando la versión de licencia CC-BY-SA 3.0 ES y se ha comenzado a usar la versión CC-BY-SA 4.0 desde el volumen 22.