The linguistic competence in Catalan of Valencian university students: an approach to phraseological units
Abstract
Abstract: Phraseology is an aspect of languages which, until some theoretical paradigms of the most recent linguistics appeared, had traditionally been approached in a disperse and superficial way. This lack of systematization and deepening into the study of phraseological units has also affected their teaching-learning process. For sociolinguistic, cognitive, and pragmatic reasons, youngsters usually have difficulties to understand and conventionally utilize certain phraseologisms. The present paper analyzes some of the results obtained in a survey about phraseological competence in Catalan carried out with students enrolled in the 1st year of the Translation and Interpreting Degree at the University of Alicante. 
Downloads
Download data is not yet available.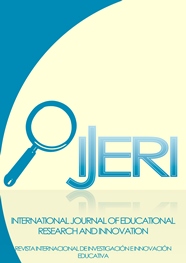 How to Cite
Garcia Sebastià, J. V. (2017). The linguistic competence in Catalan of Valencian university students: an approach to phraseological units. IJERI: International Journal of Educational Research and Innovation, (9), 172-188. Retrieved from https://www.upo.es/revistas/index.php/IJERI/article/view/2015
The works published in the "International Journal of Educational Research and Innovation (IJERI)" are subject to the following terms:
The works are published in electronic edition under a Creative Commons Attribution-NonCommercial-NoDerivative 3.0 Spain license: they can be copied, used, disseminated, transmitted and publicly exhibited, provided that:
a) The authorship and the original source of its publication are cited (magazine, editorial and URL of the work).
b) They are not used for commercial purposes.
c) The existence and specifications of this user license are mentioned.