Effects on academic performance in secondary students according to the use of ICT
Abstract
The main interest of this study was to evaluate the degree of association that the use of ICT could have to school performance in mathematics, within a limited geographical area. The data was obtained thanks to the International Student Assessment Program (PISA). 1376 students from the Canary Islands participated. To obtain the best possible approximation to the phenomenon, a mixed research method was used, in which a linear hierarchical model (HLM) analysis was used to assess the characteristics of students and schools. The results reflected positive changes in school performance influenced by the effective use of ICT. It was shown that learning can be enhanced thanks to ICT, unless its use is not appropriate.
Downloads
Download data is not yet available.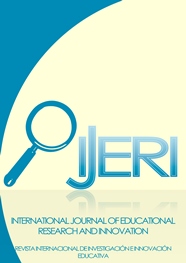 How to Cite
Benítez Díaz, L. M. ., Sevillano García, M. L., & Vázquez Cano, E. (2019). Effects on academic performance in secondary students according to the use of ICT. IJERI: International Journal of Educational Research and Innovation, (12), 90-108. Retrieved from https://www.upo.es/revistas/index.php/IJERI/article/view/4045
The works published in the "International Journal of Educational Research and Innovation (IJERI)" are subject to the following terms:
The works are published in electronic edition under a Creative Commons Attribution-NonCommercial-NoDerivative 3.0 Spain license: they can be copied, used, disseminated, transmitted and publicly exhibited, provided that:
a) The authorship and the original source of its publication are cited (magazine, editorial and URL of the work).
b) They are not used for commercial purposes.
c) The existence and specifications of this user license are mentioned.