El Seminario Permanente Mundos Ibéricos y Globalización Temprana acoge una nueva sesión el próximo viernes día 28 de mayo de 2021. En ella, los profesores Federica Morelli (Department of Cultures, Politics and Society, University of Turin) y Alexander M. Semyonov (Department of History, HSE University in St. Petersburg) reflexionarán sobre el fin de los imperios ibéricos y ruso bajo el título « Crises, transformations and dissolution in the Spanish and Russian empires: Comparative views».
Los ponentes se dan cita para comparar la forma en la que los imperios se disolvieron, las reacciones que estas organizaciones imperiales tuvieron ante las crisis que motivaron la disolución, así como las imágenes que se conformaron en torno a los imperios y sus legados. Después de ello, los asistentes tendrán la oportunidad de intervenir en el turno de debate.
El evento tendrá lugar el día 28 mayo de 2021 a las 18:00 horas (CEST) vía online a través de la plataforma Zoom, a la que podrá acceder mediante el siguiente enlace y credenciales:
https://zoom.us/j/91810405991?pwd=b0RlL0tBVnNBVldiQ2VjZjVsMFgydz09
ID DE REUNIÓN: 918 1040 5991
CÓDIGO DE ACCESO: 289955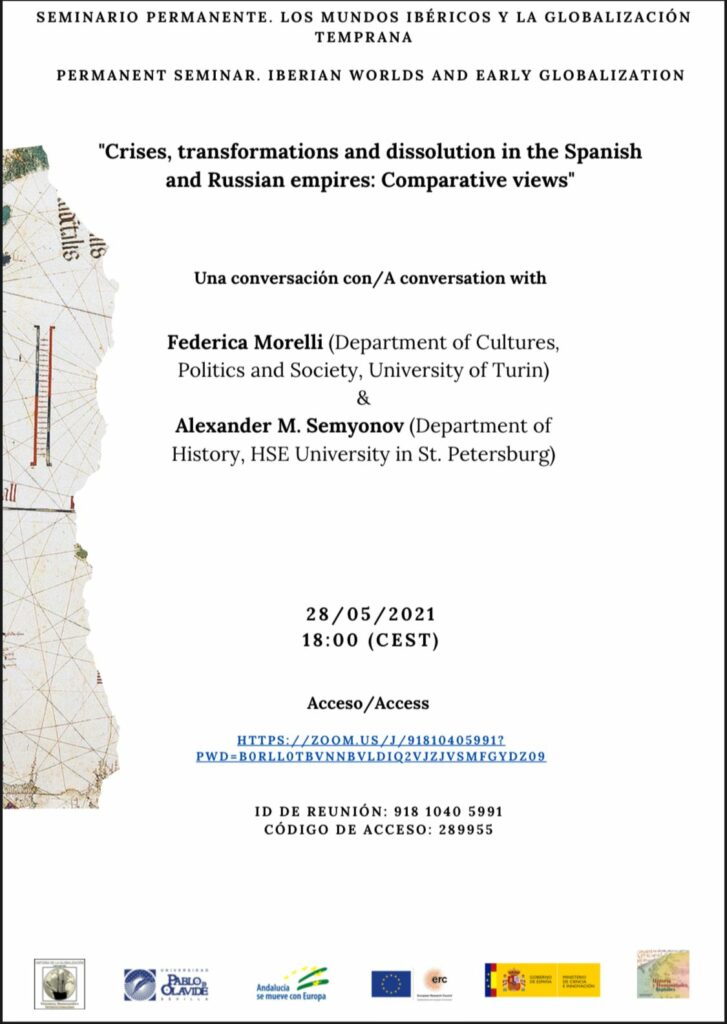 For further information, please see the full program of the event.