The next edition of the Permanent Seminar "Iberian Worlds and Early Globalization" will take place next Friday, June 18, 2021, at 18:00 hours (CEST) through Zoom. The title of this meeting will be "Imperio e intimidad"/"Empire and Intimacy", which will be moderated by researcher João Vicente Melo, member of the PAI-HUM 1000 group, and will bring together the following speakers with their respective communications:
Hannah R. Abrahamson (Emory University): «Domestic Personal Service: a Gendered Institution in Sixteenth-Century Yucatan, Mexico»
Bethany Aram (Universidad Pablo de Olavide): «Orígenes, género y supervivencia en el nexo panameño, 1513-1671»
David Wheat (Michigan State University): Commentary
This session probes the intimate multi-cultural relationships that developed in the Yucatán peninsula and the Isthmus of Panama during the sixteenth and seventeenth centuries, with particular attention to the contrasting impact of encomienda and slave trade of different origins. We seek to connect microanalysis with macro perspectives to invite analysis of global intertwinings, as well as comparisons with other regions where cultural exchange impacted families, households, and institutions, thus modulating processes of early globalization.
You will be able to access the session through the following link to Zoom and by entering the following credentials:
MEETING ID: 355 187 9965
ACCESS CODE: 412788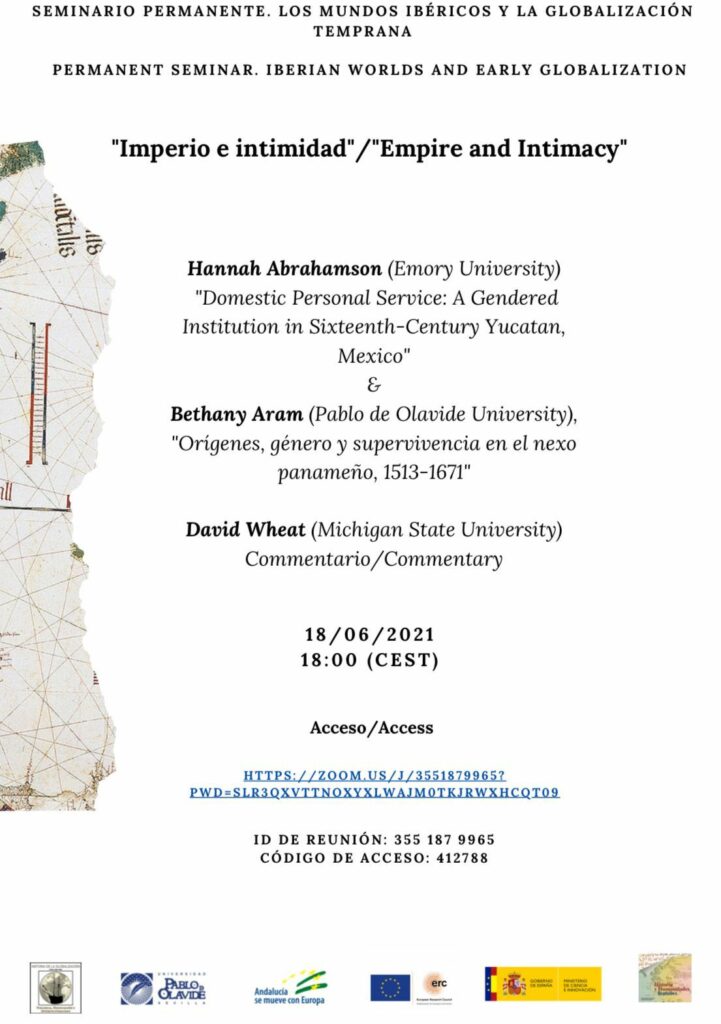 For further information, please see the full program.