Aplicación de metodologías activas para aprender a gestionar la oficina de farmacia. Una experiencia en el aula.
Keywords:
Aprendizaje autónomo, Grado en Farmacia, Metodologías activas, Gestión de Medicamentos.
Abstract
Uno de los objetivos prioritarios del proceso de convergencia dentro del EEES es que el diseño de planes de estudio y de programaciones docentes centrados en el aula y en el trabajo del profesor, den paso a una enseñanza dirigida al aprendizaje de competencias  a través del trabajo autónomo del alumnado. El presente trabajo recoge una experiencia docente en la asignatura de Gestión, Planificación, Legislación y Deontología del Grado en Farmacia, en la que se utilizan diferentes tipos de metodologías activas como los dispositivos de respuesta remota, el puzle de Aronson o la solución guiada de problemas, para trabajar distintos objetivos de aprendizaje relacionados con la gestión de compras de medicamentos y evaluación de ofertas tanto de laboratorios almacenes como de almacenes distribuidores de medicamentos. Para la evaluación de la actividad se utilizó tanto una evaluación formativa grupal como una evaluación sumativa individual-grupal. Los resultados obtenidos a partir de la opinión del alumnado al finalizar la evaluación de la actividad reflejaron, en general, la aceptación de este tipo de metodologías como alternativa o complemento a la clase magistral. Por otro lado, la evaluación de la actividad reflejó unos resultados altamente satisfactorios. Con todo ello, pensamos que la implementación de este tipo  de metodologías no sólo ayuda al alumnado a trabajar de una manera más autónoma y en grupo las diferentes competencias de la asignatura, sino que también inciden positivamente en la consecución de los objetivos  de aprendizaje planteados.
Downloads
Download data is not yet available.
References
Black, P., and William, D (1998). Inside the black box: Raising standards
through classroom assessment. Phi Delta Kappan, 80 (2): 139-148.
Coles, C.R. (1985) Differences between conventional and problem-based curricula in their students' approaches to studying. Medical Education 19(4): 308–09
Díaz, B.F; Hernández, R.G (2002) Estrategias docentes para un aprendizaje significativo: una interpretación constructivista. México, McGrawHill.
Felder, R.M., and R. Brent. (2004). The intellectual development of science and engineering students. Pt. 1: Models and challenges; Pt. 2: Teaching to promote growth. Journal of EngineeringEducation 93 (4): 269–77
Feldman, R.S. (2005) Psicología: con aplicaciones en países de habla hispana. (Sexta Edición) México, McGrawHill.
García, A.J. (2013). Transformaciones en la docencia y el aprendizaje del Derecho: ¿la educación jurídica clínica como elemento transformador? en García Añón, J. Transformaciones en la docencia y el aprendizaje del Derecho. Valencia: Actas del Quinto Congreso Nacional de Docencia en Ciencias Jurídicas.
Morales, V.P. (2009). Ser profesor: una mirada al alumno. Guatemala: Universidad Rafael Landívar, 41-98
Norman, G.R., and H.G. Schmidt. (1992) The psychological basis of problem-based learning: A review of the evidence. Academic Medicine 67 (9): 557–65.
B. Oakley, R.M. Felder, R. Brent y I. Elhajj (2004). Turning Student Groups into Effective Teams. Journal of Student Centered Learning.Vol. 2, No. 1
Prince, M., and Felder, R (2007). The Many Faces of Inductive Teaching and Learning. Journal of College Science Teaching: 14-20.
Ramsden, P. (2003) Learning to teachin higher Education. 2nd ed. London:Taylor and Francis
Saiz, S. C., y Fernández, R. S. (2012). Pensamiento crítico y aprendizaje basado en problemas cotidianos, REDU, Revista de Docencia Universitaria, 10 (3), 325 – 346.
White, R., and Gunstone, R. (1992). Probing understanding. London and New York: The Falmer Pres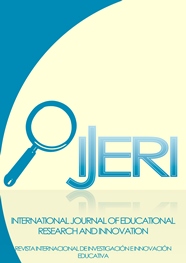 How to Cite
Sáenz del Burgo, L., & Puas Ochoa, G. (2017). Aplicación de metodologías activas para aprender a gestionar la oficina de farmacia. Una experiencia en el aula. IJERI: International Journal of Educational Research and Innovation, (9), 281-296. Retrieved from https://www.upo.es/revistas/index.php/IJERI/article/view/2311
The works published in the "International Journal of Educational Research and Innovation (IJERI)" are subject to the following terms:
The works are published in electronic edition under a Creative Commons Attribution-NonCommercial-NoDerivative 3.0 Spain license: they can be copied, used, disseminated, transmitted and publicly exhibited, provided that:
a) The authorship and the original source of its publication are cited (magazine, editorial and URL of the work).
b) They are not used for commercial purposes.
c) The existence and specifications of this user license are mentioned.