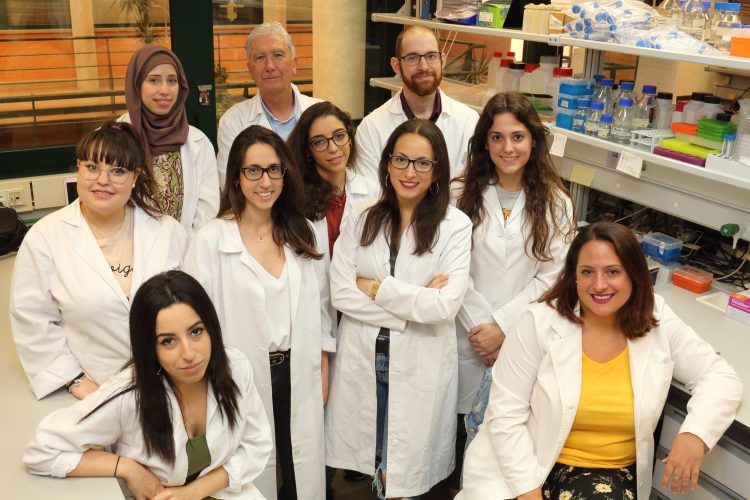 The scientific research team from the Universidad Pablo de Olavide led by doctor José Antonio Sánchez Alcázar has published a new study in the international magazines Molecular Neorubiology and Neural Regeneration Research. The study suggests therapeutic solutions for pantothenate kinase-associated neurodegeneration (PKAN), which is one of the 12 subtypes of the so-called rare disease NACH that affects children in their first decade of life.
The study has counted on with the support of the Carlos III Health Institute (FIS PI16/00786 and the European Regional Development Fund, ERDF-EU) and the ENACH Association. The team, which is an international referent in the search for therapies against rare diseases keeps advancing in their investigations on neurodegeneration with brain iron accumulation (NBIA or NACH).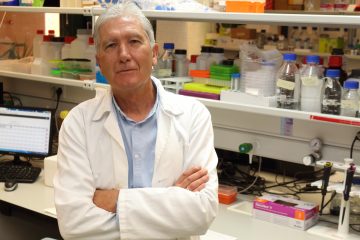 NACHs is a group of inherited neurologic disorders in which iron accumulates in the basal ganglia resulting in progressive dystonia, spasticity, parkinsonism, neuropsychiatric abnormalities, and optic atrophy or retinal degeneration. The most prevalent form of NBIA is pantothenate kinase-associated neurodegeneration (PKAN), which is related to mutations in the gene pantothenate kinase 2 (PKAN 2). This gene is essential for making possible the coenzyme A (CoA) synthesis. To the day there is no cure for NBIA nor is there a standard course of treatment.
This study describes how fibroblasts derived from patients who harbor PKAN 2 mutations can reproduce many of the cellular pathological alterations found in the disease such as intercellular iron and lipofuscin accumulation, increased oxidative stress and mitochondrial dysfunction. Furthermore, mutant fibroblasts showed a characteristic senescent morphology. Once applied the treatment with pantothenate was demonstrated that PKAN 2 enzyme substrate can correct every pathological alteration in the mutant fibroblasts with residual PKAN 2 enzyme expression. However, pantothenate showed no effect on mutant fibroblasts with truncated/incomplete protein expression.
The positive effect of pantothenate in specific mutations was also confirmed in induced neurons obtained by direct reprogramming of mutant fibroblasts. Our results suggest that pantothenate treatment can stabilize the expression levels of PKAN 2 in selected mutations. These results encourage us to propose our screening model as a quick and easy way to detect patients with PKAN 2 mutations whose cells respond to the pantothenate treatment. Thus, these patients could benefit from high-dosed PKAN 2 enzyme substrate treatments.
BRAINCURE PROJECT
These investigations are framed within the BrainCure Project which has been boosted by the ENACH Association and developed by the scientific team led by José Antonio Sánchez Alcázar from the Physiology, Anatomy and cell Biology Department of the Universidad Pablo de Olavide.
Major progresses have been reached by professor Sánchez Alcazar's team at the Andalusian Centre for Developmental Biology (CABD) since the project started back in 2014. Scientists suggest an ambitious vision also adapted to the new concept of personalized medicine. Thus, their work focuses on evaluating the therapeutic effectiveness of the treatments applied to fibroblasts from patients and on the neuron cells generated by direct reprogramming.
By doing so, the obtained results in the laboratory from cell models from patients have been taken to the clinics, where have been received as promising results within the ENACH subtype called PKAN (the most prevalent one). This has made them apply the same methodology to the rest of ENACH subtypes showing results equally promising in laboratory.
Now a days, BrainCure project is putting into practice high-precision medicine in the 5 most frequent subtypes, which are: PKAN (pantothenate kinase-associated neurodegeneration, with mutations occurring on PKAN 2 gene), PLAN (PLA2G6-associated neurodegeneration, with mutations occurring on PLA2G6 gene), BPAN (beta-propeller protein-associated neurodegeneration, with mutations occurring on WDR45 gene), MPAN (mitochondrial membrane's protein-associated neurodegeneration, with mutations on C19orf12 gene) and FAHN (fatty acids hydroxylase-associated neurodegeneration, with mutations on FA2H gene).
The scientific team is currently putting into practice personalized medicine in more than 40 patients who come from Spain and other territories such as Brazil, Colombia, Mexico, USA, France, UK, the Netherlands, Hungary and Poland.
Besides ENACH Association, three more international associations of medical patients have decided to support the BrainCure philosophy that focuses on the usage of science and drugs that are already available on the market which, combined in different ways and amounts, could constitute a therapeutic option for this generation's ENACH patients. These associations are AIDNAI (NBIA FRANCE), NBIA HUNGARY and NBIA POLAND. The last one just signed a new collaboration agreement with the University Pablo de Olavide in order to support the BrainCure research line for MPAN subtype.