Innovación universitaria con impacto social: evaluación de una experiencia de posgrado en América Latina
David Cobos Sanchiz

Universidad Pablo de Olavide

Fernando López Noguero

Universidad Pablo de Olavide

Almudena Martínez Gimeno

Universidad Pablo de Olavide

Juan Agustín Morón Marchena

Universidad Pablo de Olavide

María del Carmen Muñoz Díaz

Universidad Pablo de Olavide
Abstract
La actual situación socio-económica de Nicaragua evidencia la necesidad de formar recursos humanos de alto nivel en el campo de la Educación. Debido al poco número de profesorado con titulación de Doctor/a y las problemáticas que presenta este país en temas de salud y desarrollo comunitario, se planteó la necesidad de implementar un proyecto que incrementase el número de docentes con titulación de posgrado que pudieran actuar como agentes dinamizadores de intervención socioeducativa y desarrollo comunitario en su entorno. En este documento se describen algunos antecedentes de colaboración, el desarrollo de la propuesta, las principales características y algunas conclusiones preliminares del programa de Doctorado en Educación e Intervención Social de la UNAN-Managua, impartido en colaboración con la Universidad Pablo de Olavide, de Sevilla (España). La evaluación de la intervención pone de manifiesto que la iniciativa supone un avance determinante para fortalecer la calidad de las capacidades científicas, técnicas, sociales e innovadoras de los/as profesores/as de la universidad para abordar con mayor competitividad y efectividad los desafíos planteados en la dinamización del desarrollo, así como la importancia radical de una involucración efectiva de los agentes locales como elementos de transformación social.
----------------------------------------------------------------------------
The current socio-economic situation in Nicaragua demonstrates the need for high-level training in human resources in the field of education. Due to low numbers of professors holding a doctorate and the problems the country faces in terms of health and community development, the need was raisedto deploy a project which would increase the number of lecturers with postgraduate qualifications who could help towards invigorating socio-educational intervention and community development in their environment. This document describes some previous collaborations, development of the proposal, its main characteristics and some of the preliminary conclusions from the Doctorate in Education and Social Intervention at UNAN-Managua, conducted in collaboration with Universidad Pablo de Olavide, Seville (Spain). The evaluation of the intervention highlights the initiative as a determined advance towards strengthening the scientific, technical, social and innovative capacities of professors at the university, allowing them to better tackle the challenges raised through invigorating development. It also highlights the fundamental importance of effective involvement of local agents as elements of social transformation.
Downloads
Download data is not yet available.
References
• Brovetto J. (2008). Espacio común de la Educación Superior en América Latina y El Caribe. Educación Superior y Sociedad, 13(1),115-124.
• Bulmer-Thomas V., Douglas A. (2000). Centroamérica 2000: Hacia un nuevo modelo de desarrollo regional. Hamburg: InstitutfürIberoamerika-Kunde.
• Cisneros, E. (2004). Características generales de la Educación Superior en Nicaragua. Managua: UNAN-Managua.
• Consejo Nacional de Universidades (2011). Informe de Rendición Social de Cuentas del CNU. Managua: CNU.
• Escobar, A et al (2014). Reflexiones y perspectivas sobre la educación en Nicaragua. Juigalpa. Managua: Colección Educativa.
• España. Plan Director de la Cooperación Española 2013-2016, aprobado por Consejo de Ministros de 26/12/2012. Recuperado de: http://www.cooperacionespanola.es/sites/default/files/plan_director_cooperacion_espanola_2013-2016.pdf
• España. Plan Andaluz de Cooperación para el Desarrollo aprobado por Decreto 283/2007 (BOJA nº 11 de 16/01/2008). Recuperado de: http://www.juntadeandalucia.es/boja/2008/11/d1.pdf
• González, M. D., & Arrechavala, B. G. (2011). La educación Superior en Nicaragua. Managua: UNAN.
• Guzmán, T. J. (2013). Una propuesta para la gestión sostenible de los postgrados en Ciencias naturales para el desarrollo: flexibilidad y aplicación. Tecnología en marcha, 6 (2), 88-103.
• López, M. (2015). Estudios de innovación en las Universidades Públicas de Nicaragua. Revista Electrónica de Investigación en Ciencias Económicas. 3 (6), 122-147.
• Morón, J. A.; López, F. & Cobos, D. (2011).La problemática del SIDA: una aproximación socioeducativa. Sevilla: Universidad Pablo de Olavide y UNAN-Managua.
• Morón, J.A., López, F.& Cobos, D. (2012). Educación y Promoción de la Salud: Una experiencia de Cooperación en Nicaragua. Aula de Innovación Educativa. 213-214, 69-73.
• Nicaragua. Plan Nacional de Desarrollo Humano 2012-2016. Recuperado de: http://www.ni.undp.org/content/dam/nicaragua/docs/NIC_PLAN%20NACIONAL%20DE%20DESARROLLO%20HUMANO%202012%20-2016_marzo2013.pdf
• Santelices, B. (Coord.) (2010). El rol de las universidades en el desarrollo científico y tecnológico. Educación Superior en Iberoamérica. Santiago de Chile: Centro Interuniversitario de Desarrollo-Universia.
• UNAN-Managua (2010). Plan estratégico UNAN-MANAGUA (2011-2015). Managua: UNAN-Managua.
• UNESCO (2009). Conferencia Mundial sobre la educación Superior. París: UNESCO.
• UNIVERSIA & CINDIA (2010). Educación Superior en Iberoamérica Informe. Santiago de Chile: RIL.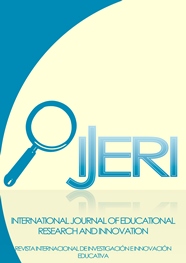 How to Cite
Cobos Sanchiz, D., López Noguero, F., Martínez Gimeno, A., Morón Marchena, J. A., & Muñoz Díaz, M. del C. (2016). Innovación universitaria con impacto social: evaluación de una experiencia de posgrado en América Latina. IJERI: International Journal of Educational Research and Innovation, (7), 1-12. Retrieved from https://www.upo.es/revistas/index.php/IJERI/article/view/2295
The works published in the "International Journal of Educational Research and Innovation (IJERI)" are subject to the following terms:
The works are published in electronic edition under a Creative Commons Attribution-NonCommercial-NoDerivative 3.0 Spain license: they can be copied, used, disseminated, transmitted and publicly exhibited, provided that:
a) The authorship and the original source of its publication are cited (magazine, editorial and URL of the work).
b) They are not used for commercial purposes.
c) The existence and specifications of this user license are mentioned.