Research competences and technological mediation of Ibero-American doctoral students
Abstract
One of the main substantive functions of the University in the 21st Century is that which refers to research processes, as well as the incorporation of Information and Communication Technologies, and even more so when working at the Postgraduate level. The study analyzed the development of research skills from technological mediation processes with 218 students from 17 Latin American countries, for which a research was carried out with a quantitative approach, of a transactional nature and of descriptive scope. technical survey based on the survey instrument consisting of 83 items, distributed mainly in five sections: 1) general data, 2) availability and access to the Internet, 3) domain of technological resources, 4) research skills and 5) technological mediation. The instrument was answered electronically, and the main findings include the frequency of use of technological tools, the search and selection of information through the Internet, however, it is important to move from paradigms oriented to the identification of information and that allow the construction and dissemination of knowledge both individually and collaboratively.
Downloads
Download data is not yet available.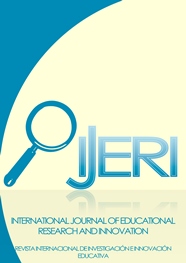 How to Cite
Veytia Bucheli, M. G., Gómez Galán, J., & Morales Cevallos, M. B. (2019). Research competences and technological mediation of Ibero-American doctoral students. IJERI: International Journal of Educational Research and Innovation, (12), 1-19. Retrieved from https://www.upo.es/revistas/index.php/IJERI/article/view/4007
The works published in the "International Journal of Educational Research and Innovation (IJERI)" are subject to the following terms:
The works are published in electronic edition under a Creative Commons Attribution-NonCommercial-NoDerivative 3.0 Spain license: they can be copied, used, disseminated, transmitted and publicly exhibited, provided that:
a) The authorship and the original source of its publication are cited (magazine, editorial and URL of the work).
b) They are not used for commercial purposes.
c) The existence and specifications of this user license are mentioned.