Actor social plurilingüe como puente entre la enseñanza de las ciencias sociales y las lenguas extranjeras: presentación de la metodología de investigación
Abstract
En base a una adaptación de los modelos de ciudadanía propuestos por Delgado-Algarra (2014, 2015), las competencias plurilingüe y pluricultural integradas en la noción de actor social plurilingüe de Coste y Simon (2009), y con el apoyo del sistema de categorías planteado por Estepa-Giménez y otros (2011); pueden comprenderse las convergencias existentes entre los modelos de ciudadanía y el actor social en contextos de educación formal plurilingüe. La principal finalidad del artículo es presentar los aspectos metodológicos de la investigación cuya problemática gira en torno a varios objetivos: conocer las concepciones de ciudadanía más significativas en determinadas experiencias formales, y el papel de los elementos más destacados de la competencia plurilingüe y la competencia pluricultural en contextos de educación formal basada en el plurilingüismo. En líneas generales, existen convergencias con las propuestas de plurilingüismo y pluriculturalidad analizadas en la presente investigación teniendo un papel predominante las actitudes y el la justicia social.
Downloads
Download data is not yet available.
References
Consejo de Europa (2002). Marco común europeo de referencia para las lenguas: aprendizaje, enseñanza, evaluación. (http://cvc.cervantes.es/obref/marco). Madrid: Instituto Cervantes - Ministerio de Educación Cultura y Deporte.
Coste, D., Moore, D. & Zarate, G. (2009). Plurilingual and Pluricultural Competence - Studies towards a Common European Framework of Reference for language learning and teaching. Council of Europe.
Coste, D. & Simon, D.L. (2009). The Plurilingual Social Actor. Language, Citizenship, Education, International Journal of Multilingualism, 6(2), 168-185.
Creswell, J. W. (2008). Educational research: Planning, conducting, and evaluating quantitative and qualitative research (third edition). Upper Saddle River, New Jersey: Pearson International Edition.
Delgado-Algarra, E. J. (2014). Educación para la ciudadanía en la enseñanza de las Ciencias Sociales y su vinculación con las dimensiones de la memoria: estudio de caso en ESO. (Tesis doctoral). Recuperado de http://hdl.handle.net/10272/8841 [consultado: 12/04/2016]
Delgado-Algarra, E. J. (2015). Educación Ciudadana y Memoria Histórica en la enseñanza de las Ciencias Sociales. Enseñanza de las Ciencias Sociales: Revista de Investigación, 14, pp. 97-109.
Estepa-Giménez, J. & otros. (2011). Análisis del patrimonio en los libros de texto. Obstáculos, dificultades y propuestas. Revista de Educación, 335, 573-588.
Porlán, R.; Martín Del Pozo, R.; Martín, J. & Rivero; A. (2001). La relación teoría-práctica en la formación permanente del profesorado. Sevilla: Díada Editora.
Toledo, I., Rubio, F. D. & Hermosín, M. (2012). Creencias, rendimiento académico y actitudes de alumnos universitarios principiantes en un programa plurilingüe. Porta Linguarum: Revista Internacional de Didáctica de las Lenguas Extranjeras, 18, 213-228.
Westheimer, J., & Kahne, J. (2004) Educating the "good" citizen. Political Choices and Pedagogical Goals. Political Science and Politics, 2, 241-247.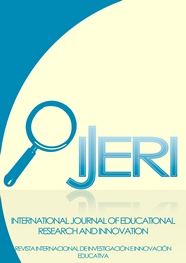 How to Cite
Delgado Algarra, E. J. (2017). Actor social plurilingüe como puente entre la enseñanza de las ciencias sociales y las lenguas extranjeras: presentación de la metodología de investigación. IJERI: International Journal of Educational Research and Innovation, (8), 97-107. Retrieved from https://www.upo.es/revistas/index.php/IJERI/article/view/2025
The works published in the "International Journal of Educational Research and Innovation (IJERI)" are subject to the following terms:
The works are published in electronic edition under a Creative Commons Attribution-NonCommercial-NoDerivative 3.0 Spain license: they can be copied, used, disseminated, transmitted and publicly exhibited, provided that:
a) The authorship and the original source of its publication are cited (magazine, editorial and URL of the work).
b) They are not used for commercial purposes.
c) The existence and specifications of this user license are mentioned.