Citizenship and plurilingual social actors in Spain and Japan: methodological aspects and introduction to exploratory analysis regarding the plurilingual competition category
Abstract
Plurilingual and pluricultural competence refers to the ability to use languages for communicative purposes and to participate in an intercultural relationship in which a person, as a social agent, dominates -with different degrees- several languages and has experience of various cultures. From the theoretical framework and the review around the problem, a categories system is elaborated in three blocks: types of citizenship, plurilingual competence and pluricultural competence. This system is useful for the configuration of the questionnaire CYASPS® "citizenship and plurilingual social actor in Higher Education" and for the systematization of data analysis with the support of the statistical analysis program SPSS.
Downloads
Download data is not yet available.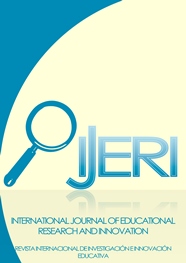 How to Cite
Delgado Algarra, E. J., Bernal Bravo, C., & Ishida, M. (2019). Citizenship and plurilingual social actors in Spain and Japan: methodological aspects and introduction to exploratory analysis regarding the plurilingual competition category. IJERI: International Journal of Educational Research and Innovation, (12), 50-62. Retrieved from https://www.upo.es/revistas/index.php/IJERI/article/view/4166
The works published in the "International Journal of Educational Research and Innovation (IJERI)" are subject to the following terms:
The works are published in electronic edition under a Creative Commons Attribution-NonCommercial-NoDerivative 3.0 Spain license: they can be copied, used, disseminated, transmitted and publicly exhibited, provided that:
a) The authorship and the original source of its publication are cited (magazine, editorial and URL of the work).
b) They are not used for commercial purposes.
c) The existence and specifications of this user license are mentioned.