Modelos culturales en un contexto multicultural
Keywords:
cultura, religión, lenguaje, familia, hábitos y expectativas.
Abstract
Este artículo parte de una investigación más amplia que analiza las diferencias que existen entre los modelos familiares en el contexto intercultural de la Ciudad Autónoma de Ceuta. Para ello, tenemos en cuenta como la cultura puede modelar hábitos y las expectativas en el núcleo familiar. El estudio se ha realizado sobre una muestra de 335 padres y madres de alumnos/as de 5 años, del tercer curso de Educación Infantil, a los que se aplicó un cuestionario sobre modelos culturales relacionados con aspectos que pudieran representar a las dos culturas con mayor presencia en este ámbito. Se utilizaron variables que definen componentes relacionados con costumbres, hábitos, lenguaje, valores, normas, expectativas y convivencia. En el instrumento elaborado se definen los diferentes modelos culturales, fundamentados en un marco teórico en el que se reconocen las dimensiones básicas en las que se sustentan estas diferencias culturales, así como el grado de identidad cultural de las familias en contextos multiculturales.
Los resultados constatan diferencias culturales que nos permiten establecer dos modelos que presentan una estructura familiar diferente para ambas culturas, una situación que puede modelar la educación de los niños/as antes de iniciar la Educación Infantil.
Downloads
Download data is not yet available.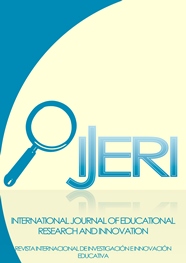 How to Cite
Latorre Medina, M. J., Mateos Claros, F., Olmedo Ruiz, F. J., & Esteban Ibáñez, M. (2017). Modelos culturales en un contexto multicultural. IJERI: International Journal of Educational Research and Innovation, (9), 31-45. Retrieved from https://www.upo.es/revistas/index.php/IJERI/article/view/2669
The works published in the "International Journal of Educational Research and Innovation (IJERI)" are subject to the following terms:
The works are published in electronic edition under a Creative Commons Attribution-NonCommercial-NoDerivative 3.0 Spain license: they can be copied, used, disseminated, transmitted and publicly exhibited, provided that:
a) The authorship and the original source of its publication are cited (magazine, editorial and URL of the work).
b) They are not used for commercial purposes.
c) The existence and specifications of this user license are mentioned.