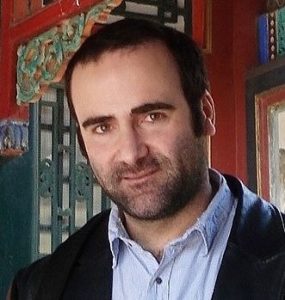 Manuel Pérez García es actualmente tenured associate profesor en el Department of History, Shanghai Jiao Tong University. Fue associate professor en la School of International Studies, Renmin University of China, desde 2013 hasta 2017. Obtuvo su doctorado en el European University Institute (Florencia, Italia). Ha sido recientemente galardonado con un ERC (European Research Council)-Starting Grant, dentro del programa de financiación Horizon 2020 de la European Union Funding for Research & Innovation para llevar a cabo el proyecto GECEM (Global Encounters between China and Europe). Manuel Pérez es fundador y director de Global History Network en China (GHN), la primera red académica en historia global establecida en China.
Ha sido research fellow en UCBerkeley, International Institute for Asian Studies (Leiden University) como Marie Curie fellow, postdoctoral researcher en el Department of History at Tsinghua University (Beijing, China) en 2011, y profesor visitante en la UNAM (México), Universidad de Tokio (Japón) y Universidad de Macerata (Italia).
Entre sus últimas publicaciones destaca el libro Vicarious Consumers: Transnational Meetings between the West and East (1730-1808) (Routledge, 2013); China and Latin America in Transition Policy Dynamics, Economic Commitments, and Social Impacts (Palgrave-Macmillan, 2016); Global History and New Polycentric Approaches: Europe, Asia and the Americas in a World Network System, co-editado con Lucio de Sousa (Palgrave-Macmillan, 2017). Este último libro publicado en Open Access www.palgrave.com/de/book/9789811040528. Es editor jefe de las series Palgrave Studies in Comparative Global History. Entre sus últimos trabajos en revistas SSCI destaca el artículo "Historia global vs. eurocentrismo: revisión historiográfica, análisis del consumo y un estudio de caso comparativo entre China y Europa (1730-1808)" publicado en la revista Economic Research History, y en la revista Studies in Maritime History (Guangdong Academy of Social Sciences) el artículo sobre la 'gran divergencia' en China titulado 迈向 "大分流":中欧贸易网络和全球消费者在澳门和马赛(18-19世纪).
Teléfono de contacto: (+86)18810503529
Ubicación: Edificio 6, Planta B, Despacho 19
Correo electrónico: mpergar@upo.es / manuel.perez@eui.eu