La percepción de la enseñanza de las competencias específicas del trabajador social por los futuros egresados
José Juan Carrión Martínez

Universidad de Almería

http://orcid.org/0000-0003-3115-2907

María del Mar Fernández Martín

Universidad de Almería

Carmen María Hernández Garre

Universidad de Almería

Antonio Luque de la Rosa

Universidad de Almería
Abstract
La innovación que subyace en el proceso del Espacio Europeo de Educación Superior se sustancia, entre otros aspectos, en que la formación de los futuros egresados de la universidad se centre en la adquisición de competencias. Nuestra labor investigadora aborda el interés por la percepción de la enseñanza de las competencias específicas del título de Trabajo Social que tienen sus estudiantes. Hemos desarrollado una investigación descriptiva, con respeto del escenario natural de organización de los estudios. El método ha sido el de encuesta. Los estudiantes de grado tienen una baja valoración sobre la enseñanza que están recibiendo de sus competencias específicas. La influencia de las variables sociodemográficas, en general denota una percepción de la enseñanza por los estudiantes, en términos generales, independiente de éstas. 
Downloads
Download data is not yet available.
References
Green, M. D. (2015). An analysis of the attitudes and perceptions of social work students regarding political participation and three historically black colleges and universities.(Dissertations). In ETD Collection for AUC. Robert W. Woodruff Library. Atlanta University Center, Atlanta
Hall, R. E. (2011). The feminization of social services: Implications for black male youth. Children and Youth Services Review, 33(5), 741-746.
Hernández Sampieri, R., Fernández Collado, C. y Baptista Lucio, P. (2014). Metodología de la investigación. México: Mc Graw-Hill.
Lymbery, M., Charles, M., Christopherson, J. y Eadie, T. (2000). The control of British social work education: European comparisons. European Journal Of Social Work , 3, (3), 269-282. http://dx.doi.org/10.1080/714052830
Quiroga Raimúndez, V., Mena García, E., Porlán Juy, J., Morales Martínez, E. y Márquez Sánchez, L. (2014). La evaluación continua en el Grado de Trabajo Social de la Universidad de Barcelona. Cuadernos de Trabajo Social, 27(2), 353-363.
Vázquez Aguado, O., Álvarez Pérez, P. y Mora Quiñones, N. G. (2011). Las competencias profesionales en los títulos de grado en Trabajo social. Servicios Sociales y Política Social, 96, 21-36.
Villaño Murga, G. y Ovejas Lara, C.(2013). Prólogo. En Olalde Altarejos, A.J. y López Ruiz de Azúa, I.(Coord.), Investigación y Trabajo Social. DIALOGANDO DESDE LA INTERVENCIÓN. Bilbao: Servicio Editorial de la Universidad del País Vasco.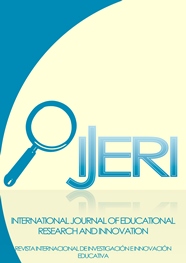 How to Cite
Carrión Martínez, J. J., Fernández Martín, M. del M., Hernández Garre, C. M., & Luque de la Rosa, A. (2017). La percepción de la enseñanza de las competencias específicas del trabajador social por los futuros egresados. IJERI: International Journal of Educational Research and Innovation, (9), 157-171. Retrieved from https://www.upo.es/revistas/index.php/IJERI/article/view/2774
The works published in the "International Journal of Educational Research and Innovation (IJERI)" are subject to the following terms:
The works are published in electronic edition under a Creative Commons Attribution-NonCommercial-NoDerivative 3.0 Spain license: they can be copied, used, disseminated, transmitted and publicly exhibited, provided that:
a) The authorship and the original source of its publication are cited (magazine, editorial and URL of the work).
b) They are not used for commercial purposes.
c) The existence and specifications of this user license are mentioned.